Stock Market Highs: Guess What Smart Investors Are Doing Now...
With precious metals in a slump as the stock market soars, astute contrarians are taking advantage of self-directed precious metals IRAs – especially now. But most Americans don't know the first thing about this option!
Here's why…
The firms offering self-directed accounts, such as New Direction IRA and Goldstar Trust, lack the marketing budgets of the giant brokerages peddling conventional IRAs. And most people planning for retirement still have not done much critical thinking about the dangers of selecting long-term investments exclusively from the usual menu of paper securities – stocks, bonds, and mutual funds.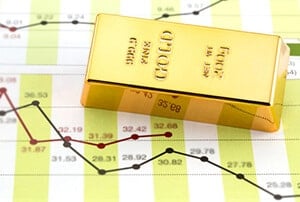 It's not the average investor's fault. The fact is brokers haven't figured out how to profit from helping their clients buy physical precious metals, so they have no financial incentive to educate them.
But word is getting out. Growing numbers of people – aghast at the war being waged on the dollar by Congress, the Fed, and the financial industry – are putting money into tangible assets, including bullion, using these little-known self-directed retirement accounts.
Investors ready to make such a move now may find their timing is particularly good.
Stocks have recently outperformed gold and silver, but the equity markets look overheated at these levels. The Dow Jones Industrial Average trades very near its all-time highs; a level that isn't really supported by underlying economic fundamentals.
Now could be an opportune time to convert paper gains into physical precious metals.
While gold and silver have dramatically outperformed over the past decade (a mega trend that remains intact), they have significantly underperformed over the past several months. Precious metals prices have fallen back sharply, with hedge fund and speculator short interest at record levels. Given that there has been no deterioration in the underlying bullish fundamentals, investors should consider this period of relative weakness as a big opportunity to accumulate undervalued physical bullion.
If you have questions about owning physical gold, silver, platinum, or palladium in an IRA, please visit the IRA page onMoney Metals Exchange's website or call us at 1-800-800-1865.
Record-High S&P 500? Not in Real Terms!
In May, the S&P 500 joined the Dow Jones in hitting all-time record highs in nominal terms. But not in real terms. When measured against gold, the S&P 500 is still down nearly 80% versus gold since 2000!
The new highs in the Dow and S&P confirm that we are in an inflationary environment. What we've seen since 2009 is a massive Bernanke rally in stocks – the happy side of inflation. It's likely that we will very soon see the dark side of that inflation – record-high gasoline prices, a global food crisis, and, yes, new highs in gold and silver.
Stocks could easily fall another 80% in gold terms. The Dow currently trades at about 10 times the price of gold. When gold peaked in 1980, it briefly got to a 1:1 ratio with the Dow. If the Dow lost 80% of its value versus gold from here, it would be worth 2 times the price of gold.
Assuming the Dow hovers around 15,000, that would imply a gold price of nearly $8,000. If at the same time silver got up to 1/20th the price of gold, a ratio that is conservative by historical standards, then silver would sell for $400 per ounce.
These figures aren't predictions, just realistic potentials to keep in mind. While prices perform well along the way, the biggest moves in precious metals can be expected to come in the final months of the bull market. And we believe we are still several years from the top.
---