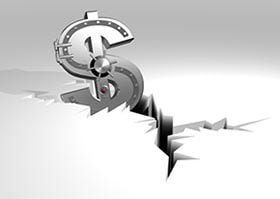 The precious metals markets are on the move, responding mainly to new weakness in the U.S. dollar.
After two years of surprising strength, the dollar index, which compares the dollar to other paper currencies, closed below key support at 80 for the second consecutive week. The outlook for the greenback now looks grim – both from a technical point of view as well as fundamentally. A break below 79 could result in fireworks.
Investors are now expecting Federal Reserve officials at Wednesday's FOMC meeting to table all serious talk of scaling back monetary stimulus – opting instead to continue creating $85 billion in new bank reserves each month, and possibly print money at an even faster clip at some point soon.
After all, Chicago Fed Governor Charles Evans just admitted publicly on CNBC that there is NO LIMIT to how much money creation could take place. "We can go as long as necessary," he concluded.
The reason investors suspect the Fed is throwing in the towel on its "taper" talk is that we've seen some lousy economic data as well as the official nomination of a major stimulus supporter – Berkeley leftist Janet Yellen – to replace Ben Bernanke as Fed Chair in January.
The bullion markets have quietly moved up over the past few days, but bullishness among the public has not yet taken hold. Some prospective buyers may be waiting to see if last week's gains will be sustained.
What Types of Coins Do Market Insiders Buy?
Customers often ask us what we are doing with our investments. They want to know if we invest our own money in metals and if the product they have chosen is something a person "in the business" would buy. By no coincidence, our Specialists can truthfully say they are regular buyers of the products we carry.
We hired each of them based on knowledge of the fundamentals driving precious metals markets and experience with investing in physical gold and silver in particular. They were all bullion investors before they came to work for us. And Money Metals Exchange only carries the most popular (and liquid) bullion products – any of which our Specialists would be happy to own.
Of course, it's common for salespeople and dealers to assure customers the products they are recommending are things they believe in. So how does an investor know whether or not they are getting honest advice?
Fortunately, investing in gold and silver doesn't have to be difficult. Nearly everyone entering the market shares the goal of diversifying out of paper investments in general and the dollar in particular.
Investors are best served by working to obtain the most liquid gold and silver coins, rounds, and bars at the lowest possible cost per ounce. That means no so-called collectibles and other items with high premiums! So if a dealer's basic recommendation isn't some variation of "stick with the most widely traded products and keep your premiums (aka transaction costs) low," we respectfully suggest it's time to find a new dealer.
Money Metals' website has a library of buying guides – you can check them out here. On our site you'll also find some of the most popular "tricks" unscrupulous dealers use to get customers to take their eyes off of the ball.
Potential Market-Moving News This Week
Monday, Oct. 28th – Industrial Production. Consensus is calling for a mediocre report. Manufacturing has generally been stronger than in 2012, but recent indications show this strength fading a bit.
Tuesday, Oct. 29th – Retail Sales. Many experts expect an anemic report on retail sales growth, with some predicting a decline.
Wednesday, Oct. 30th – FOMC Meeting Announcement. Markets are expecting the Fed to punt once again on "tapering." Most expect no action until the first quarter of 2014 at the earliest. By then, another battle in Congress over spending and the debt ceiling will need to be factored in.
Order Online or Call Money Metals Exchange
at 1-800-800-1865 for Precious Metals Coins, Bars, and Rounds.
This week's Market Update was authored by Money Metals Director Clint Siegner.

About the Author:
Clint Siegner is a Director at Money Metals Exchange, a precious metals dealer recently named "Best in the USA" by an independent global ratings group. A graduate of Linfield College in Oregon, Siegner puts his experience in business management along with his passion for personal liberty, limited government, and honest money into the development of Money Metals' brand and reach. This includes writing extensively on the bullion markets and their intersection with policy and world affairs.