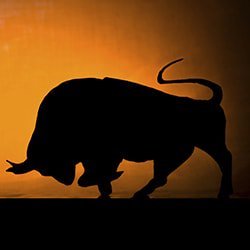 Precious metals enter the holiday week on the defensive following last week's battering. Spot prices for gold and silver fell below key technical levels – silver lost the $20.00/oz mark and gold sliced through the $1,260/oz level to reach its lowest price since July. Gold and silver bulls can be expected to try to defend the June lows ($1,200 for gold; $18.40 for silver), should they be tested. Of course, prices can reverse at any time, regardless of where market technicians have marked their charts. Since bearishness toward gold and silver futures is at an extreme low among commercial hedgers and at an extreme high among speculators and hedge funds, the precursors for a powerful short-covering rally are in place.
Markets are currently dominated by technical trading; the precious metals charts look ugly while stock charts look much prettier. Gold and silver bulls must continue waiting for fundamental analysis to return as a driver in the markets. For the moment it remains conspicuously absent, even as loose money policies drive the stock market and high-value assets, including diamonds and fine art, to record highs.
That didn't stop pundits from trying to tie last week's fall in precious metals prices to the release of the FOMC meeting minutes. A couple of Fed governors have become more bullish on the U.S. economy, which implied more support for "tapering" in the coming months. But if the Fed was indeed going to stop propping up the economy with $85 billion in monthly asset purchases, we're not sure why folks would be eager to invest money in a stock market that is already looking toppy. Investors are simply buying assets that have performed well and selling the rest – a strategy that works great... until it doesn't.
Bullish Outlook on Stocks Reaches an Extreme
The recent weakness in spot metals prices can be partially attributed to money exiting the gold and silver markets to chase the returns available in mainstream equities. The Dow made a new all-time high on Thursday. Large banks (flush with Fed cash) and professional traders – who know what they are doing and when to get out – are capitalizing on the trend.
The inexorable march higher in stocks is also attracting herds of investors who don't question the official story on economic recovery too closely. They accept recent rises in stock prices as proof stocks are in the early stages of another bull market. This crowd – the so-called "dumb money" – is likely to get shorn once again. General bullishness on equities has reached an extreme. Now here's an interesting chart to behold – demonstrating an extreme lack of bearish sentiment among investors...
How would a correction in stock prices impact precious metals markets? As outlined in last week's Market Update, metals tend to outperform during bear markets in equities. We think this will be especially true when the stock market reverses, as spot prices currently sit near three-year lows and there is a complete absence of enthusiasm. Despite many investors doing exactly the opposite, now looks like a great time to swap shares for bullion.
Potential Market-Moving News This Week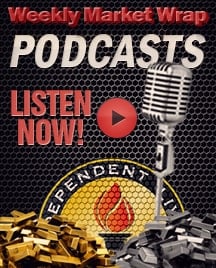 This holiday week will be light on data releases. Markets will be closed on Thursday for Thanksgiving and will close early on Friday.
Money Metals Exchange offices will be closed on Thursday, but open all day on Friday. Call us at 1-800-800-1865 during any business day. As always, you are welcome to place orders at www.MoneyMetals.com 24 hours per day, 365 days per year.
Tuesday, Nov. 26th – Housing Starts. Housing had been one of the bright spots in the economy – fueled by low-interest rates, the Fed's voracious appetite for mortgage-backed securities, and government loan programs. However, fears of tapering spiked interest rates in late summer, and the real estate market is showing signs of weakness.
Wednesday, Nov. 27th – Durable Goods. The September Durable Goods number came in weaker than expected – particularly if orders of aircraft were factored out. Expect the report for October to also reflect weakness.
This week's Market Update was authored by Money Metals Director Clint Siegner.

About the Author:
Clint Siegner is a Director at Money Metals Exchange, a precious metals dealer recently named "Best in the USA" by an independent global ratings group. A graduate of Linfield College in Oregon, Siegner puts his experience in business management along with his passion for personal liberty, limited government, and honest money into the development of Money Metals' brand and reach. This includes writing extensively on the bullion markets and their intersection with policy and world affairs.