Gold opened modestly higher in trading this morning after showing impressive relative strength last week versus a sharply declining U.S. equity market.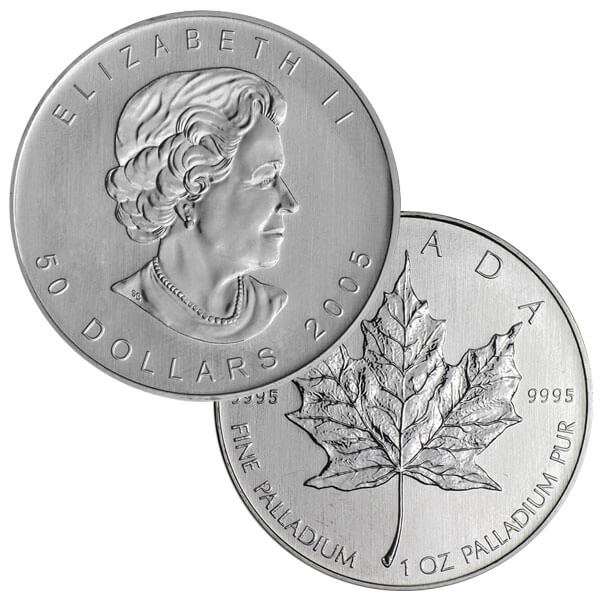 Gold managed to eke out a positive weekly close, while silver prices finished essentially flat as a pancake. The poor man's gold has spent the past few weeks struggling to overcome selling pressure around the $20/oz level.
Meanwhile, palladium, this year's top-performing precious metal, continues to charge ahead. Palladium prices busted through the $800/oz level on Friday to post new multi-year highs.
Congratulations to those of you who have already diversified into this under-owned and increasingly scarce industrial metal! If you haven't yet, Money Metals Exchange offers certified palladium bullion bars as well as Canadian Maple Leafs. Up-to-the-minute pricing is available on our website.
---
Lopsided Short Positions in Silver Futures Markets Put Near-Term Damper on Rallies
So why has silver been frustratingly unable to sustain breakout rallies in recent weeks? Look no further than who has the ammunition to kill rallies in the futures market.
The Commercial net short position in silver now stands at 144.5 million ounces. According to an analysis by Ted Butler, JPMorgan holds an astounding 76% of the total Commercial net short position (110 million troy ounces).
Silver is unique among all commodities in that just four institutional traders together hold short positions that are the equivalent of 110 days of world production (and the top eight traders are short nearly 160 days of silver production). In the long term, this is a bullish setup since short positions are eventually covered (bought back). But in the near term, the big players can sell more paper contracts into the market to quell rallies.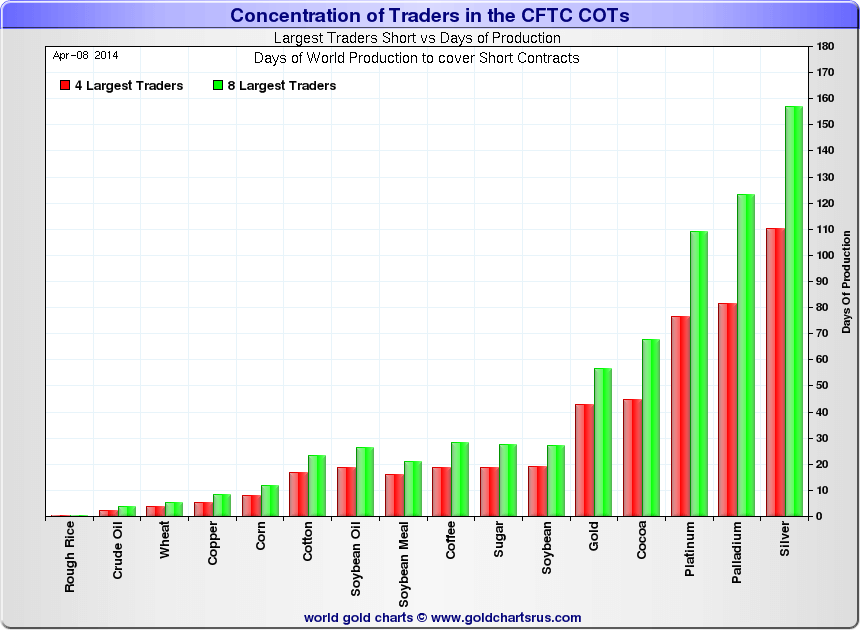 It's crucial to keep a long-term perspective if you are a silver investor. Silver has been building a long-term base of support over the past few months. During this consolidation period, the outlook for new mining supply has worsened as silver prices have remained low (below many miners' all-in costs of production). A supply-demand imbalance in the physical market can, and almost certainly will, cause a short squeeze in the futures market.
When is impossible to know? But if you hang onto and keep accumulating silver in physical form, you'll enjoy the eventual ride-up, which could be quite spectacular.
On Physical Gold Accumulation vs. Paper Game Proliferation
"Physical gold is very scarce. It's hard to mine, hard to find, and hard to finance. Supply only grows 1.5 percent per year relative to the above-ground supply… The more physical gold that flows into Asia that isn't traded will stay as permanent insulation to protect their capital for generations, making it harder for Western capital markets to play the game of paper gold."
-John Hathaway, portfolio manager, Tocqueville Asset Management, speaking at Dubai Precious Metals Conference
Introducing the Most Versatile Gold Bullion Product You Can Hold
Money Metals Exchange now proudly offers the 50-gram (1.608 troy oz) gold CombiBar from Valcambi. CombiBars are unique among bullion products. They are designed to be easily broken into 1-gram sections, each section hallmarked with Valcambi's mark, weight, and purity.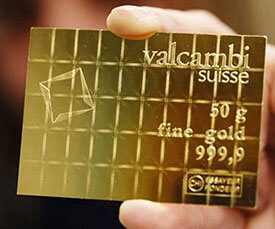 And this amazing versatility comes at a much lower premium than an equivalent quantity of 1-gram bars or even 1/10th-ounce coins. There simply is no more cost-effective way to buy "fractional" gold.
Valcambi is one of the largest Swiss refiners and manufacturers of LBMA gold and silver bars. Their name and products are recognized and trusted worldwide. Each .9999 pure gold bar comes individually packaged with the Valcambi certification attached.
Order online now or call 1-800-800-1865 to pick these up.
Potential Market-Moving News This Week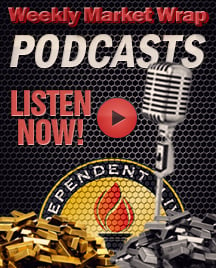 Markets will be closed on Friday for the Good Friday holiday. However, Money Metals Exchange's offices will remain open during our normal business hours. The holiday-shortened week will bring some important data releases. Earnings reports due out from the big banks and any change in the direction of Ukraine-Russia tensions could also impact markets.
Monday, April 14th - Retail Sales.
Tuesday, April 15th - Consumer Price Index. Despite the recent surge in food prices, the official CPI figure is likely to indicate a low rate of consumer cost inflation.
Wednesday, April 16th - Housing Starts; Industrial Production.
Thursday, April 17th - Philadelphia Fed Survey.

About the Author:
Clint Siegner is a Director at Money Metals Exchange, a precious metals dealer recently named "Best in the USA" by an independent global ratings group. A graduate of Linfield College in Oregon, Siegner puts his experience in business management along with his passion for personal liberty, limited government, and honest money into the development of Money Metals' brand and reach. This includes writing extensively on the bullion markets and their intersection with policy and world affairs.