Every three months, Money Metals Exchange publishes its complimentary newsletter, Precious Metals Quarterly.
Well, here it is!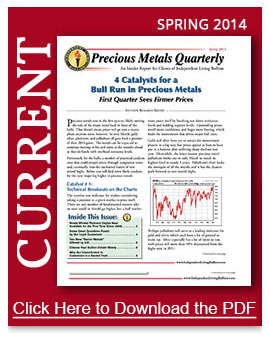 Check out the latest news about precious metals – including reports on market catalysts, new product releases, and a feature article exposing some industry scandals and rip-offs (don't miss this one!).
With so much happening, every owner or potential owner of precious metals needs to download our free Spring 2014 issue right away.
Here is an overview of what's inside:
4 Catalysts for a Bull Run in Precious Metals
Newly Minted Platinum Eagles Now Available for the First Time Since 2008
Some Great Questions Posed by Our Loyal Customers
Two New "Barter Metals" Offered by ILB
Choose Your Bullion Dealer Wisely
Why Our Commitment to Customers Is a Sacred Trust
So download the PDF of this fantastic newsletter right now – and even pass it around to your friends! It's just another free benefit for those who have signed up for Money Metals Exchange's email list.

About the Author:
Clint Siegner is a Director at Money Metals Exchange, a precious metals dealer recently named "Best in the USA" by an independent global ratings group. A graduate of Linfield College in Oregon, Siegner puts his experience in business management along with his passion for personal liberty, limited government, and honest money into the development of Money Metals' brand and reach. This includes writing extensively on the bullion markets and their intersection with policy and world affairs.