Dear Valued Reader,
First, let me say thank you for continuing to make Money Metals your source for commentary and analysis about the precious metals market.
As a reader benefit, I want to give you free access to this summer's Precious Metals Quarterly newsletter. It's jam-packed with some super timely news and information!
Gold and silver may have seemed out of favor during the past three years, but during this time our customers have been joined by droves of Americans who diversified into physical bullion as a hedge against inflation and financial turmoil.
I am proud to report that Money Metals has been growing steadily each and every month – not only do tens of thousands of customers now purchase gold and silver from Money Metals, but hundreds of thousands of individuals have signed up to receive information via email to follow our "sound money" message!
We believe our success is rooted in Money Metals' hallmark values of maintaining fair pricing, making and keeping ALL commitments, providing first-class customer service and educational content, and building our business by putting our customers' interests first.
This mission of education, customer service, and honest dealing is deeply personal to me – as well as Money Metals' co-owners Mike Gleason and Clint Siegner – and that has been the case since the very day we founded the company over four years ago.
And with more and more Americans waking up to the importance of accumulating physical gold and silver, the future looks even brighter.
There can be no guarantees, but we do not expect gold and silver prices to fall below the lows seen in the last year. In fact, as I write this email to you today, we're seeing some encouraging price action.
Regardless, it's prudent to stagger your purchases over time to reduce risk. And as always… Money Metals is also eager to buy your precious metals should you ever wish to sell them.
Access Your FREE Precious Metals Quarterly Newsletter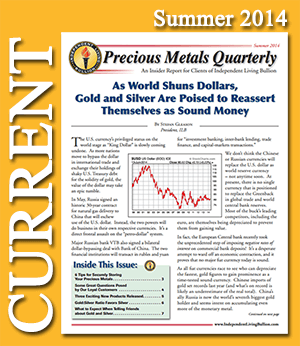 Every three months, Money Metals publishes its complimentary newsletter, Precious Metals Quarterly.
With precious metals appearing to have bottomed out in recent months, every owner (or potential owner) of precious metals should download our free Summer 2014 issue right away.
Here is an overview of what's inside:
As World Shuns Dollars, Gold and Silver Are Poised to Reassert Themselves as Sound Money
6 Tips for Securely Storing Your Precious Metals
Some Great Questions Posed by Our Loyal Customers
Three Exciting New Products Released
Gold:Silver Ratio Favors Silver
Free Report: How to Get Rich or Go Flat Broke
What to Expect When Telling Friends about Gold and Silver.
So download the PDF of this fantastic free newsletter right now – and even pass it around to your friends! It's just another free benefit for those who have signed up for Money Metals' email list.
Yours in Freedom and Prosperity,


Stefan Gleason, President
Money Metals Exchange
P.S. Thank you again for allowing Money Metals to play a small role in your financial life. We take our responsibility extremely seriously.

About the Author:
Stefan Gleason is CEO of Money Metals Exchange, the company recently named "Best Overall Online Precious Metals Dealer" by Investopedia. A graduate of the University of Florida, Gleason is a seasoned business leader, investor, political strategist, and grassroots activist. Gleason has frequently appeared on national television networks such as CNN, FoxNews, and CNBC and in hundreds of publications such as the Wall Street Journal, TheStreet, and Seeking Alpha.