Same Great Company, More Services, Even Better Name!
Dear Reader,
I have some extremely important news to share with you.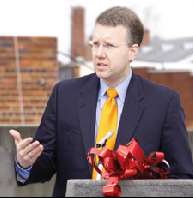 Our company has transformed into more than simply your trusted source for low-cost gold and silver coins, bars, and rounds – we're now ready to offer a full suite of secure, convenient, and innovative services designed to maximize your investment.
So we've just renamed Independent Living Bullion as Money Metals Exchange – a new company name and website address, www.MoneyMetals.com, that better reflect where our company is today and where it is heading in the future.
Everything you like about our company is staying the same. Same leadership. Same quality. Same values.
We will continue to deliver useful and insightful metals market news, podcast interviews, and other quality content from the same team of precious metals experts. Whether you are talking with one of our no-pressure specialists, reading our informative emails, or turning the pages of our latest issue of Money Metals Insider – you can always expect honest advice and thoughtful analysis.
We've become the nation's fastest growing precious metals exchange service based on trust, ethical business practices, great buy and sell prices, helpful and friendly staff, a super useful and convenient website, and fast and discreet delivery of every order. That's a formula we can assure you isn't changing.
Our new, broader, and easy-to-remember name – Money Metals Exchange – simply reflects the reality that we now serve you in more ways, and it positions the company to go to the next level in our mission of popularizing affordable precious metals ownership in America.
Here's the backstory...
Ever since we flung open our doors in 2010, folks have been coming to us in droves.
More than 30,000 other customers have made our company their trusted source for low-cost precious metals after recognizing the opportunity we presented and capitalizing on it. Even in the grinding market of the past two years, our customer base has more than doubled!
The word is out that our company is America's #1 source for low-cost precious metals, combined with great news content, pithy commentary, and, most importantly, total integrity in a market still dominated by unscrupulous peddlers of "rare" coins, proof coins, and other forms of graded and slabbed coins which we've labeled "Ripoff Gold" and "Ripoff Silver."
Our 30,000 customers (and counting!) have successfully fended off the high-pressure salesmen hawking their "collectibles" at ridiculous premiums – and they've instead turned to us to get the most physical gold and silver for their money, with speedy delivery and complete transparency.
New Name Reflects What Our Company Has Become, Coincides with Launch of Additional Services
When I named the company Independent Living Bullion back in 2010, it was initially an in-house service to readers of a similarly named special-interest newsletter publication in which I shared ownership. Since then, however, our precious metals company has evolved into a large national service available to any concerned American wishing to diversify out of the risky U.S. dollar.
As I alluded earlier, our new name, Money Metals Exchange, signals the arrival of some exciting new offerings – services that you, our valued customers, have requested!
We are now the source for everything related to physical ownership of the money metals – maximum security storage services, IRAs, monthly gold and silver savings plans, online precious metals accounts, and soon… collateralized lending for those wishing to borrow against their physical precious metals.
Money Metals Exchange is poised to meet the growing needs of all of our valued precious metals customers.
So, Here Are Some More Freebies on Us…
Of course, gold and silver are true money – and have been chosen for thousands of years as the money metals. They're above the political fray and insulated from the irresponsible acts of reckless politicians and self-serving central bankers.
Our customers have made a deliberate decision to hold these assets of timeless value in order to inoculate themselves against the ravages of inflation and financial turmoil.
Thank you for the ongoing faith you have placed in our company, enabling us to grow to the point where we can even better serve our loyal customers and readers.
Yours Truly,



Stefan Gleason, President
Money Metals Exchange
www.MoneyMetals.com
1-800-800-1865 (same phone number, same ownership, same secure location!)
---