Welcome to the first Weekly Market Update under our new company name -- Money Metals Exchange! While you can still reach us through our old web address, the new web address is www.MoneyMetals.com. (We maintain the same phone number and secure physical address.)
As our president Stefan Gleason explained in his letter yesterday, the time had come to move beyond the Independent Living Bullion name we selected when we launched our company years ago -- and develop even more services our valued customers have been requesting.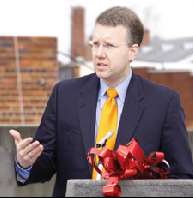 Our company ownership and values are the same as before our name change. And we intend to continue doing exactly what has made our business so successful -- conducting business with absolute integrity, providing fast delivery of affordable gold and silver coins, rounds, and bars, and providing some of the most comprehensive and insightful articles and podcasts on the precious metals markets.
Precious metals are the "money metals," and our new company name simply fits better with our mission of popularizing precious metals ownership in America… it better suits what our company has become and where it's headed in the coming months and years.
Now... on with this week's Market Update!
Gold and silver prices traded fractionally higher last week and moved decisively lower in overseas trading Monday while U.S. markets were closed.
With the exception of the August employment report scheduled for release on Friday, there isn't much on the calendar this week that figures to influence prices heavily. Events in the Middle East and elsewhere will likely command investors' attention. Price action in the coming days is likely to rely heavily upon perceptions of the geopolitical risks overseas.
But gosh, is there some exciting news to report about the palladium market?! Prices are surging and technical analysis implies plenty of room for prices to continue upward. More on that below.
Expert David Smith Predicts Other Precious Metals Will Follow Palladium's Price Rise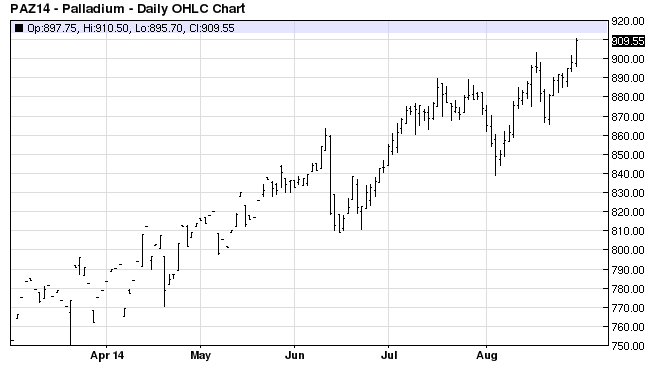 Palladium's outstanding performance this year isn't generating much coverage in the financial media, but it is grabbing the attention of some astute investors. Palladium prices are up nearly 24% for the year and closed on Friday at their highest levels in 13-½ years.
David Smith, Senior Analyst for the Morgan Report and regular contributor to www.MoneyMetals.com, explains why palladium may just be getting started. He noted that this past Friday's high followed a series of three $50 price retracements -- very positive price action.
" Palladium is like a crouching tiger. It is telling us that we are going to see an eventual blow-off top that will amaze everyone. The finger spread target I get from the 25-year chart is about $1,350... but that's not going to be the ultimate top," said Smith.
After predicting palladium's stellar performance on our podcast in February 2013, Smith continues to emphasize his view that palladium is a leading indicator for gold and silver: "What I have maintained for almost three years now, is that this chart action is going to "inform" us as to the coming attractions to be provided by gold and silver."
The share prices for junior mining companies provide confirmation of Smith's view. The Market Vectors Junior Gold Miners ETF (ticker GDXJ) is up nearly 30% YTD. Historically, a move higher in the mining shares foretells an advance in the precious metals themselves.
Quiet August Puts Downward Pressure on Premiums
Seasonal factors reasserted themselves in the bullion markets this summer. Demand in recent summers held up surprisingly well against the traditional slack, but quiet returned this August. This weakness is reflected in lower premiums for some popular bullion products. Pre-1965 90% of U.S. silver coins have seen the biggest drop.
Premiums for "junk silver" coins are among the most volatile. These no-longer-minted junk coins are not controlled by the fabrication costs that put support under premiums for newly minted bullion coins, rounds, and bars.
Over the past 18 months, 90% silver coin premiums had risen dramatically when silver prices fell sharply to the current levels. Buyers trying to take advantage of the low spot prices far outnumbered sellers willing to accept the low prices, and dealer inventory evaporated. But low demand for physical silver last month provided enough slack to ease this dynamic.
Buyers can also find reduced premiums for silver bars, gold bars, and silver rounds at Money Metals Exchange.

About the Author:
Clint Siegner is a Director at Money Metals Exchange, a precious metals dealer recently named "Best in the USA" by an independent global ratings group. A graduate of Linfield College in Oregon, Siegner puts his experience in business management along with his passion for personal liberty, limited government, and honest money into the development of Money Metals' brand and reach. This includes writing extensively on the bullion markets and their intersection with policy and world affairs.