At Money Metals, we believe a significant part of our mission is to educate customers and the public at large about the many aspects of the precious metals market.
Our precious metals Specialists enjoy addressing the many excellent questions posed by our customers on an individual basis, and we do our best to share some of the most common questions and answers in a more public way...
Laura asks: I read your excellent article "What to Expect When Telling Friends about Gold and Silver" by Guy Christopher. When I talk to friends, they often ask "Where are you going to redeem the gold if the economy goes bad? Will a local grocery store be able to "handle" or break the gold into smaller denominations?" How would you respond?
We expect that to get easier for people -- not harder – to redeem gold bullion coins in a serious economic crisis. And it is very easy now.
Owners of Precious Metals
At the current time, owners of precious metals generally redeem their holdings through a dealer. Money Metals Exchange and other dealers are constantly buying inventory – many times throughout the day. We publish on our website real-time prices we pay to buy various items. Customers can call any time, lock their prices and simply mail us the items. As soon as we receive the shipment, we issue payment via wire, ACH, or check.
It takes just a few moments for holders of widely traded bullion products (the products Money Metals focuses exclusively on) to convert them into cash with us or any other dealer in the country.
You can also trade with neighbors, friends, and others -- anyone who recognizes the full value of the bullion offered. For now, though, this remains a very small contingent. Most estimate that fewer than 2% of people have ever owned physical gold and silver bullion.
Should we have a serious currency crisis in the future where merchants no longer accept dollars for their goods and services, you can expect these merchants to do what they have done throughout history around the world. They will exchange their wares for gold and silver.
If history is any guide, people who hold gold and silver, even just 1 troy oz of silver or gold, during this sort of crisis will be extraordinarily glad – not inconvenienced or disadvantaged. They will be able to exchange their precious metals at a premium directly with merchants for the things they need.
We recommend anyone concerned about needing precious metals to barter and trade with buy a mix of gold and silver and pick up at least some metal in "fractional" size (less than 1 ounce). Pre-1965 90% silver U.S. coins, 1/10 oz silver rounds, pre-1933 coins and 1/10th oz gold coins are all well-suited for making change or bartering in small amounts.
John asks: What is the spot price and how does it relate to premiums?
The "spot" price represents the current base market value of the various precious metals. It is set in large global futures exchanges, including the Chicago Mercantile Exchange (COMEX). Traders actively buy and sell futures contracts, representing claims on very large bars at some future date, nearly 24 hours a day from Sunday evening to Friday evening.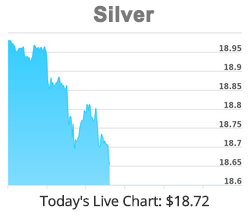 Technically, the "spot" price is the price of the most recent trade for the nearest active delivery month. And it changes from moment to moment – much like stock prices – as tens of thousands of contracts change hands daily.
Every precious metals dealer should be using a live spot price that is almost the same at any given time – with the only variation being attributable to a small time lag or the particular reporting service being utilized.
Many mints and industrial users buy futures contracts and take delivery of very large bars, like silver bullion bars and gold bars directly from exchange vaults. But these exchange-sized bars are typically not suitable for private investors who want to take possession. They are difficult and expensive to ship and will generally need to be re-assayed when it is time to sell.
Bullion Premiums
The bullion products that Money Metals Exchange and other dealers offer carry a "premium" that is added to the spot price. This premium includes wholesale premiums dealers must pay and/or the manufacturing cost of converting the large exchange-sized bars and other raw inputs into finished coins, rounds, and smaller bars designed for bullion investors to easily hold and trade. Premiums also include dealer overhead and profit.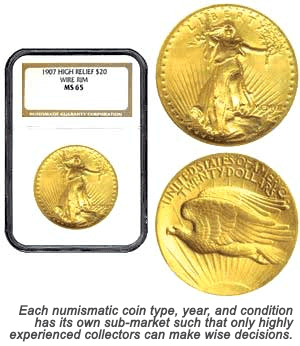 Premiums will vary from company to company and from product to product – but for bullion coins, bars, and rounds, premiums are typically between 4% and 12% of the spot price. (As a general rule, small fractionals will tend to carry higher premiums and large multi-ounce items will carry lower premiums. As a percentage of total value, gold premiums tend to be lower than silver premiums.) You can check out how much a 1-troy-ounce gold coin is currently worth to get a better idea of gold premiums.
Some of the saddest situations we have encountered involve customers who bought supposedly "rare" coins from a high-pressure sales outfit often paying premiums of at least 40% (and sometimes multiples of that). Later they discover the coins aren't scarce at all and won't bring much more than their melt value based on the spot price. That's why we have labeled such slabbed and graded coins "Ripoff Gold" and "Ripoff Silver."

About the Author:
Clint Siegner is a Director at Money Metals Exchange, a precious metals dealer recently named "Best in the USA" by an independent global ratings group. A graduate of Linfield College in Oregon, Siegner puts his experience in business management along with his passion for personal liberty, limited government, and honest money into the development of Money Metals' brand and reach. This includes writing extensively on the bullion markets and their intersection with policy and world affairs.