Access Your FREE Precious Metals Newsletter NOW -- Our New Fall Edition Is Now Live!
Every three months, Money Metals publishes its complimentary newsletter, Precious Metals Quarterly, jam-packed with some timely news, commentary, and announcements!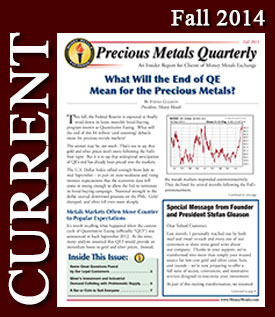 Learn the inside skinny on silver's rising demand as an industrial metal, what investors should expect from the coming hiatus of Federal Reserve money printing, about our attractive new gold and silver product releases, and answers to several probing questions from our customers.
Here are a few examples of what you'll find inside our Fall 2014 issue:
What Will the end of QE Mean for the Precious Metals?
Silver's Investment and Industrial Demand Colliding with Problematic Supply
Some Great Questions Posed by Our Loyal Customers
A Bar or Coin to Suit Everyone
So download the PDF of this fantastic free newsletter right now – and even pass it around to your friends!
---