Important Questions Posed by Our Loyal Customers
At Money Metals Exchange, we believe a significant part of our mission is to educate customers and the public at large about the many aspects of the precious metals market.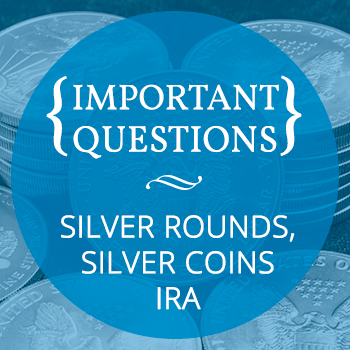 Our precious metals Specialists enjoy addressing the many excellent questions posed by our customers on an individual basis. But we also like to share some of the most relevant questions and answers in a more public way...
---
Premiums in Silver Coins & Rounds
Dale asks:
Why is there a difference in the premium between silver coins and silver rounds?
Answer: Our Specialists get this question often. Given that silver rounds and silver coins are fabricated exactly the same way, it is reasonable to think the premiums might be similar. Both start as molten silver which is poured into an ingot. The ingot is sent through a rolling mill and formed into a thin silver strip about 5 inches wide. It's then annealed to remove the work hardening in the silver. Then round silver blanks are stamped from the strip and "rimmed." Finally, the finished blanks are minted – a large press with dies for the obverse and reverse stamps each blank with its design.
The labor involved in fabrication drives much of the premiums charged for bullion products. So part of the premium difference in coins versus rounds can be explained by costs and efficiency in the private sector relative to government. Private mints and refiners compete for business, government mints do not.
And they really don't have to. The U.S. Mint produced 44 million silver American Eagles last year, another record. Many investors like the perceived credibility and government guarantee that comes with official, legal tender coinage, and they are willing to pay a dollar or two more per ounce to get it.
The dysfunctional U.S. Mint currently charges wholesale premiums for their bullion coins roughly three times those found for privately minted rounds. If demand spikes, the U.S. Mint is likely to simply stop accepting new orders rather than ramp up production. But if demand should fall, don't expect them to reduce prices either. It would be fair to say market forces scarcely influence the U.S. Mint.
---
Judy asks:
I have a 401(k) plan. Can I buy and hold precious metals with it?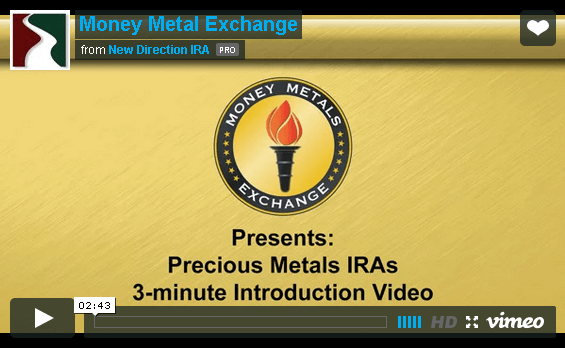 Answer: You almost certainly won't be able to buy bullion using funds in a 401(k) plan (unless the plan sponsor has set up a self-directed option, which is extremely rare). However, you may be able to convert some or all of your 401(k) balance into a self-directed IRA – the type of retirement plan you need to hold physical gold and silver. As a rule of thumb, you can make this "rollover" if you are no longer employed by the sponsor of your 401(k). If you are still working for the firm sponsoring your plan, you will be limited to the investment options they have chosen for you.
But just about any conventional IRA, whether Roth or traditional, can be converted to a self-directed account. Switching is easy. Most providers can enroll you right online – no need to print forms, complete them, and then mail them off. That's it. The provider will work directly with your existing IRA/401(k) custodian to transfer funds.
And it is definitely worth doing. Traditional IRAs are the products of banks and brokerages. They offer the usual lineup of paper assets – stocks, bonds, mutual funds, and money markets. Self-directed IRAs don't just allow you to hold physical gold, silver, platinum, and palladium. They also allow you to hold real estate, shares of an LLC company, promissory notes, and more.
Visit our IRA page to learn more and get our recommendations on firms offering self-directed accounts.
---