Access Your Free Copy of Money Metals Insider NOW!
Every two months, Money Metals publishes its complimentary newsletter, Money Metals Insider, jam-packed with some timely news, commentary, and updates on the precious metals and threats to your financial freedom...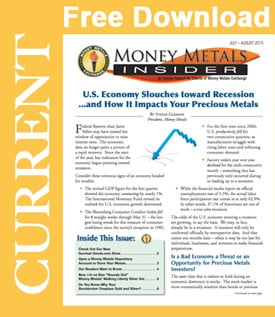 Well, today I'm giving you access to our new July/August 2015 edition – for free!
Responding to requests of our customers, our company continues to launch some great new products and services. For example, if you wish to store your precious metals securely in a fully segregated account, open an account at Money Metals Depository by calling 1-800-800-1865!
And we recently launched www.Survival-Goods.com – your one-stop shop for emergency food, supplies, and gear. Take a look!
Here's a sample of what you'll find inside our July/August 2015 issue:
Open a Money Metals Depository Account to Store Your Metals
Questions on Our Customers' Minds
So download the PDF of this fantastic free newsletter right now and even pass it around to your friends! It's just another free benefit for those who have signed up for the Money Metals email list.
---