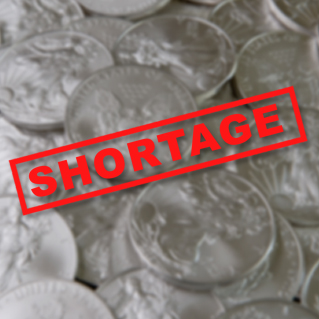 Silver bullion for retail investors is in short supply. We do our best to keep readers updated on shortages in bullion coins, rounds, and bars. The enormous surge in demand has put mints and refiners behind. After two months of high retail demand, they are still unable to catch up... in fact, they're falling even more behind. That's why silver coin premiums rose again last week, and shipping delays lengthened.
The lack of availability in silver coins, rounds, and 5, 10, and 100-ounce bars along with higher premiums is making it more difficult for silver investors to capitalize on today's low spot prices. Fortunately, the higher demand for gold has not yet created similar shortages. Gold buyers can obtain virtually all items promptly.
But with the gold/silver ratio sitting at extreme highs, currently at 77, now looks like a great time to favor silver. Unfortunately, market conditions mean it may be more difficult and expensive to do so.
Here are the best bets for bargain hunters looking to grab silver now:
British Britannias and Perth Mint Funnel Web Spiders are in Stock.
For anyone looking for beautiful silver coins with low premiums and immediate delivery, there are two very good options. Both are sovereign coins and both offer lower premiums than silver American Eagles or Maple Leafs. And no delays.
The UK's Royal Mint recently launched sales of the British Britannia here in the U.S. The timing was excellent, as the U.S. market badly needs additional supply.
The Britannia is denominated at 2 pounds sterling. And at one ounce of fine silver, the silver content is identical to the American Eagle. The coin's popularity and recognizability are well-established in Europe and will grow rapidly in North America as it becomes established here.
The Australian Perth Mint will mint just 1 million ounces of its Funnel Web Spider coin. Like other sovereign bullion coins, the Spider features 1 troy ounce of silver at .999 purity. Right now, buyers can grab some of these attractive coins while they remain in stock, but inventory is likely to run out soon.
Take advantage of the low premiums and on-hand inventories in 1,000-ounce silver bars.
Money Metals Exchange is also responding to the product shortages plaguing the silver market by offering exchange-sized bars in segregated storage at a steeply discounted premium. Store with Money Metals Depository, and you can purchase 1,000-ounce bars at a premium to the spot price of just $.29/ounce!
And we currently buy those bars back from customers at the spot price of less $.15/oz. That means investors can buy silver very close to the spot price and get the most advantageous bid/ask spread we have ever been able to offer – just $0.43!
So far the shortage of silver is limited to fabricated coins, rounds, and smaller bars. We can deliver 1,000-ounce bars into your physically segregated holding with Money Metals Depository immediately after clearing your payment. When you are ready to convert them into a smaller product more suitable for delivery – perhaps after premiums and availability improve – it will be simple and low-cost.
If buying 1,000-ounce bars makes sense to you, just be sure to do it the right way. With this particular item, we strongly advise customers not to take physical delivery. If 1,000-ounce bars are removed from a depository, they generally need to be melted and re-assayed when you are ready to sell. Dealers will discount the bid price accordingly. Not to mention these 70 lb bars are difficult and expensive to ship.
Rather than buying silver bars online in this large size, please give us a call at 1-800-800-1865. Bar weights can vary by up to 10% so you would need to know the exact weight of the particular bar you are buying before locking in the order. They will also be able to answer your storage questions and forward the form needed to establish your fully segregated account at Money Metals Depository.