Download Your Free Copy of Money Metals Insider NOW!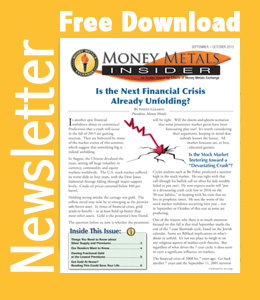 More freebies for you!
Money Metals is pleased today to grant you access to the September/October issue of Money Metals Insider – a FREE benefit for you, our valued reader. Please check it out right away.
It's jam-packed with some product announcements, commentary on the markets, and important updates about threats to your physical safety, financial privacy, and freedom.
Gold is still readily available, but low prices and extraordinary retail demand for physical silver have led to substantial production bottlenecks for coins, rounds, and bars in recent months.
Meanwhile, a convergence of major economic events and market cycles have sparked global market volatility and concerns of a renewed financial crisis.
Here's a sample of what you'll find inside our September/October 2015 issue:
Things You Need to Know about Silver Supply and Premiums
Answers Our Readers Want to Know
Owning Fractional Gold at the Lowest Premiums
So download the PDF of this fantastic free newsletter right now and even pass it around to your friends! It's just another free benefit for those who have signed up for the Money Metals email list.
---