This spring, the center of gravity in the gold trading universe shifted eastward. China's Shanghai Gold Exchange launched a yuan-denominated gold price fix on April 19th. The new Asia-centric gold pricing mechanism highlights the fact that for many years physical gold has been flowing from the West to the East.
Coordinated sales by Western central banks kept the gold price suppressed from the mid-1980s through the early 2000s. Britain infamously dumped half its reserves of gold bullion (like a gold bar or coin) into the market right at the bottom in gold prices (from 1999-2002)!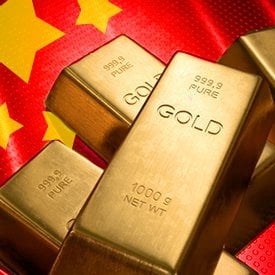 The U.S. government has ceased selling gold – at least officially – because it is prevented by law from doing so.
However, many gold analysts believe that large quantities of U.S. gold reserves have been subjected to lease or swap agreements that call into question who owns the bullion. (Using these mechanisms, the U.S. circumvents the restriction on selling America's gold by borrowing gold from another country and then selling that gold into the market.)--purchase American Gold Eagle bullion coins from Money Metals.
Meanwhile, the government of Canada has sold off virtually its entire gold stockpile. Earlier this year, a drawdown took Canadian gold reserves down to a trivial 77 ounces – effectively 0% of total reserves. At one point in the 1960s, Canada held over 1,000 tonnes of yellow metal. Now, not even 1,000 ounces.
Western Central Banks Unload Gold Hoards, Asians Go on Buying Spree
As gold flows out of Western vaults, it accumulates in Eastern vaults and homes. India imports nearly 1,000 metric tonnes of gold per year, mainly to satisfy jewelry demand. And even though China is the world's largest gold producer, domestic production isn't enough to meet the country's demand.
China competes with India for the title of the world's biggest gold importer. The People's Bank of China is widely believed to be accumulating more than 200 tonnes per year on its way to a total hoard of close to 4,000 tonnes. Reliable numbers are hard to come by, as China doesn't fully disclose its purchases. But so far this year, it appears that China's appetite for gold is being surpassed only by Russia's.
Last year, the Central Bank of Russia added a record 208 tonnes of gold to its reserves. It is on pace to accumulate at least that much in 2016 (slightly more than China). Both Russia and China are effectively de-dollarizing by replacing U.S. Treasuries with gold and forming regional economic partnerships that bypass the dollar.
At some point, Shanghai may challenge New York and London as the centers of trading activity for precious metals.
For now, though, the new Shanghai gold fix gives China greater autonomy (it will no longer have to convert to a dollar price in international transactions) and solidifies China's regional dominance in the gold trade.
China is the world's leading producer and consumer of gold. Therefore, it makes sense that China wants more control over the gold pricing mechanism.
The current leading gold benchmark is the London Bullion Market Association Gold Price Fix. It emerged last year as a modern, electronic-based replacement for the old London Gold Fix. The new system is more efficient and no longer relies on a small group of backroom traders to set the price.
However, the problem of large-scale manipulation of precious metals prices in London, New York, and elsewhere has not been solved. Far from it.
Massive Gold and Silver Manipulation Scheme Exposed
In April, Deutsche Bank settled a U.S. lawsuit over charges that it conspired with multiple banks to rig gold and silver prices. The plaintiffs say individual investors were hurt.
According to Reuters (April 14, 2016), plaintiffs contended the German bank "manipulate[d] prices of gold, gold futures and options, and gold derivatives through twice-a-day meetings to set the so-called London Gold Fixing."
"They also accused Deutsche Bank, HSBC, and ScotiaBank of a similar conspiracy to manipulate silver prices by rigging the daily Silver Fix."
By settling (for an undisclosed amount), Deutsche Bank essentially admitted that it couldn't refute the allegations. On top of that, Deutsche Bank agreed to provide evidence of the manipulation by other banks.
The Chinese certainly aren't averse to interfering in markets either. However, there is one critical difference between the Shanghai Gold Exchange and futures markets in Europe and America: The Shanghai Gold Exchange processes transactions for physical metal. It's a real physical market, not a market for mere paper contracts.
Physical Metal Backing Western Exchanges Now Dangerously Low
In recent months, paper speculators have driven leverage on the U.S. COMEX gold and silver futures markets to unprecedented extremes. Registered inventories of physical metal have plummeted as the number of paper claims on each available ounce has multiplied.
Paper precious metals markets are on the verge of losing all credibility. If just a small percentage of the people who now hold long paper contracts on gold and silver demanded physical delivery or sold their contracts into the market and used the proceeds to buy physical, the buying pressure could lead to physical shortages and price spikes.
Perhaps the Chinese and Russians foresee the day when physical gold will be difficult to obtain and command a much dearer price. They – and all those who hold precious metals in physical form – will be in the position of setting the terms in the coming new Asia-centric monetary and economic order.

About the Author:
Stefan Gleason is CEO of Money Metals Exchange, the company recently named "Best Overall Online Precious Metals Dealer" by Investopedia. A graduate of the University of Florida, Gleason is a seasoned business leader, investor, political strategist, and grassroots activist. Gleason has frequently appeared on national television networks such as CNN, FoxNews, and CNBC and in hundreds of publications such as the Wall Street Journal, TheStreet, and Seeking Alpha.