New York, NY, USA – December 20, 2016 – Money Metals Exchange, a leading U.S. precious metals dealer, has begun offering innovative new VULT diamond investment units to its investor community.
Recently named precious metals "Dealer of the Year" by industry ratings group Bullion.Directory, Money Metals news reaches over 1,100,000 readers. The company's experience with nearly 100,000 customers, and $120 million in annual revenues leads to the conclusion that VULT is "a breakthrough in precious commodities investing – tradable, graded diamonds – ounce for ounce, up to 5,000 times more precious than gold."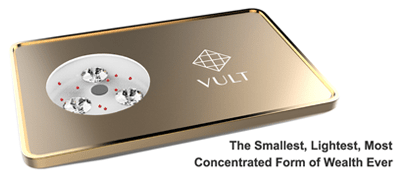 In its announcement, Money Metals stated "...collection-quality diamonds are now a great way to diversify your portfolio of tangible assets. Graded, registered VULT diamonds are available in five denominations with initial offer prices ranging from $10,000 to $250,000."
VULT Investment Diamonds as a Fungible Asset
"This is the first time," the bullion company's president Stefan Gleason noted, "diamonds have been transformed into a liquid, portable, and fully fungible asset – like gold and silver bullion."
"Of course, we are very pleased with our Money Metals Exchange partnership," said Joseph Lipton, VULT's inventor and CEO of Secured Worldwide, the New York-based firm working to develop collection-grade diamonds as a global asset class.
"Their business philosophy – safeguarding investors' assets from financial turmoil and the devaluing dollar, without paying costly middleman mark-ups or experiencing high-pressure, bait-and-switch sales tactics – is perfectly in line with our mission to make diamonds the most dense, portable, and fungible investment choice," said Lipton.
MoneyMetals.com explains that "the VULT system is a genuine innovation that will change the diamond market forever. It is backed by serious professionals who can deliver the products, systems, controls, and values our customers deserve."
"We've worked very hard to make this product a reality," Lipton commented. "And we are certain this diamond investment model will appeal to investors to become an iconic and lucrative alternative investment vehicle in our troubled times."
---
Money Metals Exchange, a precious metals dealer named 2015's "Dealer of the Year" in the United States by an independent global ratings group, serves nearly 100,000 customers and sells more than $120 million in physical gold, silver, platinum, and palladium each year. Its phone number is 800-800-1865 and its website is www.MoneyMetals.com.
Secured Worldwide was formed in the US in 2013 and has since expanded its operations into Hong Kong, China, Taiwan, Miami, Panama, and Dubai. The company's mission is to create a new global asset based on the enduring value of investment-grade diamonds coupled with multiple-patented technologies and materials. This asset, the VULT, allows the preservation and transportation of wealth with transparency and trust. Secured Worldwide can be reached at 212-847-7866, and VULT's website is www.vult.com/