Download Your Free Copy of Money Metals Insider NOW!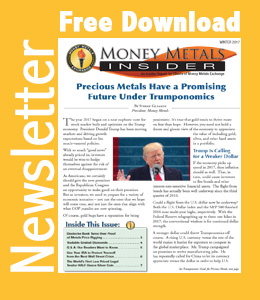 More freebies for you!
We're pleased today to grant you access to the Winter 2017 issue of Money Metals Insider– a FREE benefit for you, our valued reader.
Please check it out right away.
Your free newsletter is jam-packed with some product announcements, commentary on the markets, and important updates about the new environment for gold and silver under the Trump administration. Plus we answer some reader questions.
Now here's a sample of the great content you'll find inside your Winter 2017 newsletter:
Precious Metals Have a Promising Future under Trumponomics
Deutsche Bank Turns Over Proof of Metals Price Rigging
The World's First Low Priced Legal Tender HALF Ounce Silver Coin
So download the PDF of this fantastic free newsletter right now and even pass it around to your friends! It's just another free benefit for those who have signed up for the Money Metals email list.
---