Physical rounds, coins, and bars often fell into short supply in recent years as nervous investors worked to build a stash. They paid steep premiums and, in many cases, waited for delivery as mints and refiners struggled to keep pace. During brief periods, items such as the Silver American Eagle bullion coins were difficult to obtain at any price.
That changed with the end of the Obama administration and the election of Donald Trump. Suddenly more optimistic U.S. bullion investors slowed their buying and ratcheted up selling. Mints and refiners – who shed their backlogs in 2016 – have been lowering prices on silver rounds and bars. Premiums for those products have fallen roughly $0.10/oz since January 1st.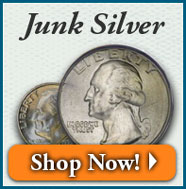 Secondary market metal (metal re-sold by investors back into dealer inventories) is also more plentiful. Pre-1965 90% silver – aka junk silver – premiums are the lowest they have been in years. Those coins come exclusively from the secondary market. And there are no hard costs underpinning premiums as there are with newly fabricated bars and rounds.
Mints & Refiners Making New Silver Products Must Cover the Cost of Labor & Equipment
The uptick in selling and downtick in buying quickly showed up in lower junk silver premiums– how much is junk silver worth? And there are deals to be had in other places. Investors who don't care about getting the current year on Silver Eagles can save a few cents per ounce by buying random dated coins which have been readily available in recent weeks.
Buyers today also have a lot more choice when it comes to inexpensive bullion coins than even 3 years ago. The enormous appetite for silver coins in the U.S. over the past several years coupled with the U.S. Mint's inability to keep up led a handful of other sovereign mints to jump into the American bullion coin market.
Australia's Perth Mint now offers the Kangaroo; the British Royal Mint launched the Britannia; and Money Metals is proud to offer the Bounty – a super low premium coin from the New Zealand Mint.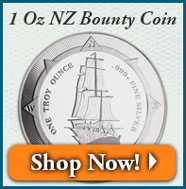 The wider selection, low premiums, ample inventories, and metals prices which remain much closer to recent lows than recent highs make it a buyer's market in bullion. That is something that cannot be said for most other assets. It looks a lot more like a seller's market in stocks, bonds, real estate, and even the U.S. dollar!
At what point will the higher gold and silver spot prices translate into a buying frenzy from folks who see the train leaving the station? And how long will investors remain optimistic and less interested in safe havens?
The answer to the latter question is a function of Trump's success in delivering on his agenda, geopolitical events in the U.S. and around the world, and the length of time left in the uptrend for U.S. stocks and real estate.
We see the current conditions lasting weeks or months, but almost certainly not years.

About the Author:
Clint Siegner is a Director at Money Metals Exchange, a precious metals dealer recently named "Best in the USA" by an independent global ratings group. A graduate of Linfield College in Oregon, Siegner puts his experience in business management along with his passion for personal liberty, limited government, and honest money into the development of Money Metals' brand and reach. This includes writing extensively on the bullion markets and their intersection with policy and world affairs.