Download Your Free Copy of Money Metals Insider NOW! (Spring 2017)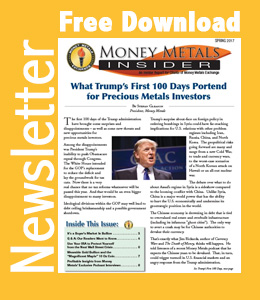 More freebies for you!
We're pleased today to grant you access to the Spring 2017 issue of Money Metals Insider – a FREE benefit for you, our valued reader.
Please check it out right away.
Don't miss our reports on the top two triggers for a renewed bull run in the precious metals, reader questions, the latest on IRAs, and some profitable insights from the likes of Jim Rickards, Marc Faber, David Morgan, and Michael Pento.
Plus, we have some great new products to share with you... including a pure gold bullion bracelet and a colossal 10-oz silver coin from the Royal Canadian Mint!
Q & A: Our Readers Want to Know
Use Your IRA to Protect Yourself from the Next Wall Street Crisis
Wearable Gold Bullion and the "Magnificent Maple" 10 Oz Coin
So download the PDF of this fantastic free newsletter right now and even pass it around to your friends! It's just another free benefit for those who have signed up for the Money Metals email list.
---