There are four interesting developments taking place in the gold and silver market that precious metals investors should be aware of. While Americans continue to place all the BETS in the CASINO called Wall Street, via stocks, bonds, and real estate, the EAST has been acquiring record amounts of gold and silver. Furthermore, something interesting seems to have changed recently in the Silver Eagle sales market.
FIRST DEVELOPMENT: Let's start by showing the stunning amount of silver India imported in May. According to Smaulgld.com, India imported nearly 2,000% more silver in May 2017 vs May 2016: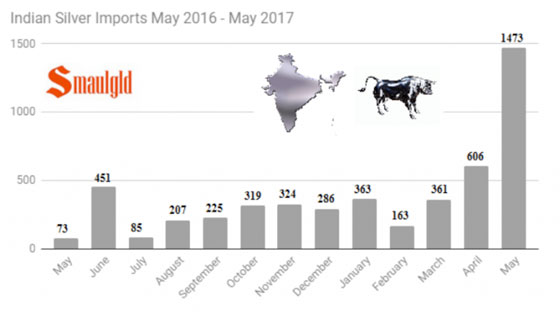 Matter-a-fact, India imported nearly the same amount of silver in May, than they received in January-April. Also, we can see that May's 1,473 metric tons of silver imports are 2-4 times more than any of the prior months. Something inspired the Indians to import that much silver this past May.
SECOND DEVELOPMENT: India also imported a record amount of gold in May: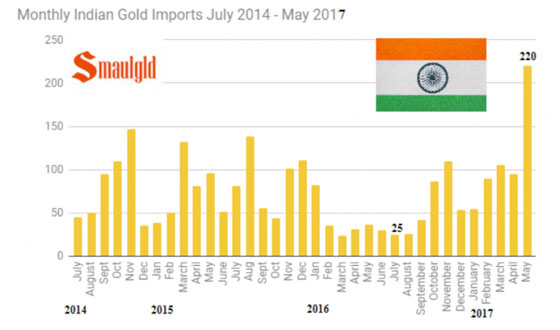 According to Smaulgld's article, INDIAN GOLD IMPORTS ON RECORD PACE IN 2017:
Indian gold imports of 220 tons in May were up from 36 tons in May 2016.
May Indian Gold Imports were the largest one-month total in twenty years.
The impact of 220 tons imported into India on the price of gold was de minimus
Gold and Silver Imports
So, for some reason, India's gold and silver imports surged in May. It will be interesting to see what their figures are for June and July. Please check out the Smaulgld.com site run by Louis Cammarosano. He does an excellent job covering updates on the Gold and Silver markets.
UPDATE: Louis contacted me and let me know that there was a bit of a mix-up with the data for May in the Indian Gold and Silver imports. His data provider, Sharelynx.com run by Nick Laird mistakenly added April's figures into May. Louis sent me two updates to correct the issue.
UPDATE July 12, 2017: A review of provisional June Indian gold import numbers highlighted a discrepancy in the May gold numbers. I contacted the data provider and discovered that the May import numbers reflected combined April and May imports. The actual May Indian gold import number was 123.694 tons. Gold imports were up 244% in May from 36 tons in May 2016. The provisional June Indian gold import number is 72 tons. Charts will be revised in June's update.
UPDATE July 12, 2017: After confirming an error in the Indian May gold import numbers, I contacted the data provider to determine if an error had also been made in calculating the May Indian silver numbers. Indeed, the May Indian silver import numbers reflected combined April and May imports. The actual May Indian silver import number was 819.132 tons. Silver imports were up 1,022% in May from 73 tons in May 2016. Indian Imports of 26,335,705 ounces of silver in May were nearly 2X higher than 13,523,500 million American Silver Eagles coins sold through July 12, 2017. Charts will be revised in June's update.
I apologize for the error in the figures, but I knew that Smaulgld was getting them from Sharelynx.com, so I didn't question them. I have used Sharelynx's charts and data before. Even Goldcore published the same data in their article, India Gold Imports Surge – First Half 2017 Higher Than All 2016.
Regardless... the actual figures are still much higher than the same month last year suggesting that the Indians are indeed ramping up gold and silver purchases.
THIRD DEVELOPMENT: Silver Eagle sales have surged in the first two weeks of July. According to the most recently released U.S. Mint data, Silver Eagle sales as of July 12th, are 1,290,000 versus 960,000 for the entire month of June: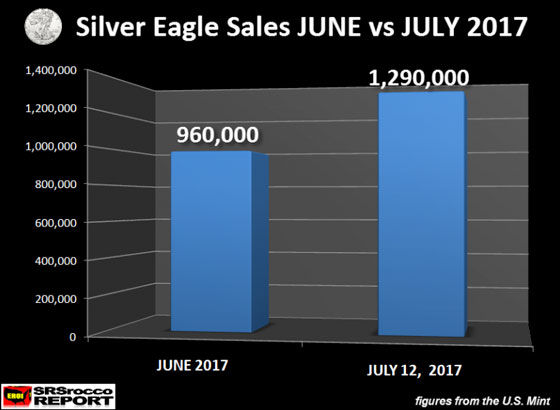 At this pace, the U.S. Mint might sell over 2.5 million Silver Eagles in July. This recent increase in precious metals buying in Asia and in the U.S. may be an indicator showing that something may be seriously wrong in the markets. Furthermore, several analysts are forecasting that the stock market is RIPE for a huge correction starting this fall.
It seems like investors are taking advantage of lower silver prices as well as buying more metal due to fear that we may indeed experience a large Stock market correction this fall. Those who think the price of gold and silver are going to fall lower along with the Dow Jones and S&P 500, haven't been awake for the past four years. Gold and silver have already sold off considerably, and are now close to the COST OF PRODUCTION. However, the Dow Jones and S&P 500 P/E Ratios are in bubble territory.
FOURTH DEVELOPMENT: It looks like a SHAREHOLDER CLASS ACTION LAWSUIT is now being filed against Tahoe Resources:
RADNOR, Pa., July 12, 2017 /PRNewswire/ — The law firm of Kessler Topaz Meltzer & Check LLP announces that a shareholder class action lawsuit has been filed against Tahoe Resources, Inc. (NYSE: TAHO; TSX: THO) ("Tahoe" or the "Company") on behalf of purchasers of the Company's securities between April 3, 2013, and July 5, 2017, inclusive (the "Class Period").
Investors who purchased Tahoe securities during the Class Period may, no later than September 5, 2017, seek to be appointed as a lead plaintiff representative of the class. For additional information or to learn how to participate in this action please visit www.ktmc.com/new-cases/tahoe-resources-inc#join.
The complaint alleges that, on July 5, 2017, after the market closed, Tahoe issued a press release announcing the suspension of the Escobal mining license. The press release stated, in part, "the Supreme Court of Guatemala has issued a provisional decision in respect of an action brought by the anti-mining organization, CALAS, against Guatemala's Ministry of Energy and Mines ("MEM"). The action alleges that MEM violated the Xinca Indigenous people's right of consultation in advance of granting the Escobal mining license to Tahoe's Guatemalan subsidiary, Minera San Rafael."
Following this news, the stock price declined from a close of $8.27 per share of Tahoe stock on July 5, 2017, to a close of $5.56 per share on July 6, 2017, a drop of approximately 33%.
The complaint alleges that, throughout the Class Period, the defendants failed to disclose that: (1) Tahoe's exploitation license of the Escobal mine assets was in violation of the indigenous people's rights to be consulted; (2) Tahoe was not in compliance with governmental law and regulations; and (3) as a result of the foregoing, the defendant's statements about Tahoe's business, operations, and prospects, were false and misleading and/or lacked a reasonable basis.
As I mentioned in my article, WORLD'S 2ND LARGEST SILVER MINE SHUT DOWN: Implications For Company & Market:
As we can see, the disinvestment of Tahoe Resources by two large European Funds should be a WARNING to investors that things may not be ROSEY for the company going forward.
Please understand, I am not only painting a negative picture for Tahoe but rather providing additional information that seems to be missing from the Mainstream press. Thus, investors are making decisions without the COMPLETE information or story.
Some readers were quite upset with me for providing the OTHERSIDE of the STORY on Tahoe Resources. However, my intent wasn't to put out a negative opinion of the company, rather it was to provide information that most investors likely do not know about as it pertains to Tahoe's Escobal Mine.
This new class-action lawsuit against Tahoe Resources is based on possibly misleading and misrepresenting investors about the problems and issues with the Escobal Mine. Individuals and shareholders need to learn more about what is going on at the Escobal Mine so they can make better decisions about future investments in the company.

About the Author:
Independent researcher Steve St. Angelo started to invest in precious metals in 2002. In 2008, he began researching areas of the gold and silver market that the majority of the precious metal analyst community has left unexplored. These areas include how energy and the falling EROI – Energy Returned On Invested – stand to impact the mining industry, precious metals, paper assets, and the overall economy.