In an interesting change of events, the world's fifth largest silver producer saw its production plunge 32% in May versus the same month last year. Chile, a country which produced a record high of 54 million oz of silver in 2014, is forecasted to see its mine supply decline to less than 40 million oz in 2017.
Silver Production
According to the most recently released data by COCHILCO – Chile's Ministry of Mines, the country's silver production in May fell to 97.1 metric tons (3.1 million oz) versus 141.9 metric tons (4.6 million oz) in the same month last year: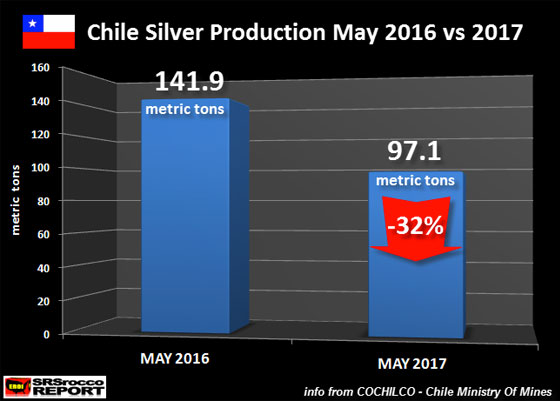 Part of the reason for the decline was a union strike and shutdown at the huge by-product silver Escondida Copper Mine. However, by-product silver production at Escondida was only down 38 metric tons (1.2 million oz) during the first six months of the year (BHP Billiton). This is only a small percentage of the overall 170 metric tons (5.5 million oz) decline in Chile's copper production in the first five months of 2017 versus the same period last year: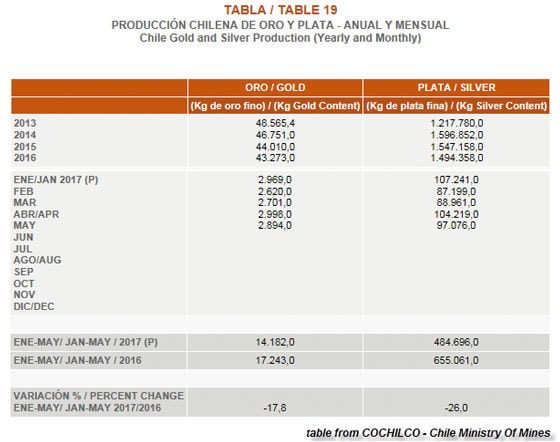 According to COCHILCO's preliminary production figures, Chile produced 655 metric tons of silver Jan-May 2016 versus 485 metric tons Jan-May 2017. Again, this a difference of 170 metric tons.... or a 26% decline year to date.
Furthermore, preliminary results from the top silver producers show that mine supply continues to decline from the global peak in 2015.
Top Silver Producers JAN-APR 2017:
Mexico = -3%
Peru = -3%
Australia = -5%
If the declining silver production trend continues in the world's top producers for the remainder of 2017, global mine supply will fall for a second consecutive year. Global silver production reached a peak of 891 million oz in 2015, and then fell to 886 million oz last year: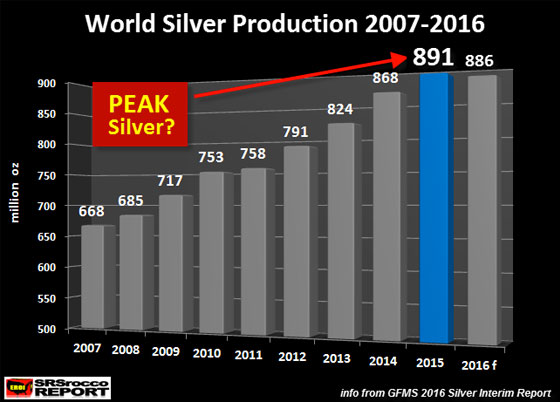 If we assume another 2-3% decline in world silver production in 2017, world silver mine supply is forecasted to decline to 850-865 million oz. This decline in global silver production is taking place at a time when several analysts are calling a BOTTOM in the silver price.
According to technical analyst, Clive Maund in his recent article, SILVER GREEN ALERT – ONE OF THE BEST BUYING OPPORTUNITIES FOR YEARS…:
There will be no equivocating, fence sitting or any kind of hedging or expression of doubt in what is written in this update. Let me be absolutely clear: – we are now at the threshold of a barnburner rally in the Precious Metals sector, and silver is set to scream higher driven by a massive short covering panic, because short positions in it have ballooned in recent weeks to levels way above what we saw in December 2015, when silver hit its final bearmarket bottom, before the big sector rally during the 1st half of 2016.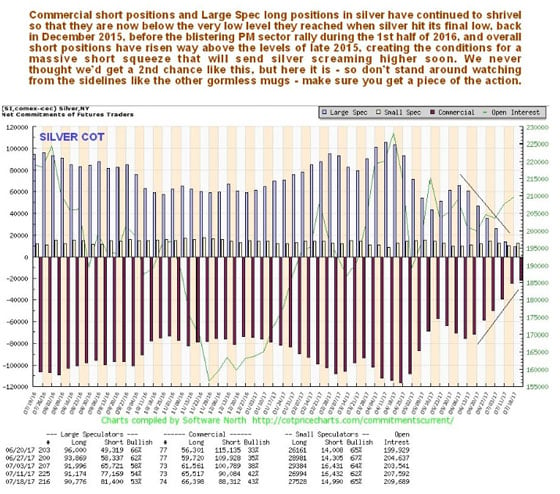 The latest silver COT chart shows that Commercial short and Large Spec long positions have fallen even further over the past week, despite the price having risen somewhat. These are now at even lower levels than we saw at the December 2015 bottom. Gold's are about the same as last week and very bullish too, and for good measure we are just entering the most bullish time of year for the Precious Metals. So there it is – a massive opportunity staring you in the face, of the sort we haven't seen since late 2015, and before that for many years.
While I don't follow technical analysis all that much, the Silver COT Report structure has certainly set up for a big move higher over the next 2-4 months.

About the Author:
Independent researcher Steve St. Angelo started to invest in precious metals in 2002. In 2008, he began researching areas of the gold and silver market that the majority of the precious metal analyst community has left unexplored. These areas include how energy and the falling EROI – Energy Returned On Invested – stand to impact the mining industry, precious metals, paper assets, and the overall economy.