Download Your Free Copy of Money Metals Insider NOW! (Summer 2017)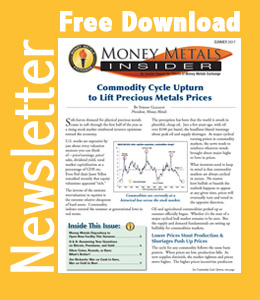 More freebies for you!
We're pleased today to grant you access to the Summer 2017 issue of Money Metals Insider – a FREE benefit for you, our valued reader.
Please check it out right away!
First, we're particularly excited to announce the imminent completion of our new state-of-the-art, Idaho-based depository, a maximum security storage facility safely located FAR AWAY from Wall Street, Washington DC, and the risky U.S. banking system!
The Money Metals Depository
Is also rolling out a full suite of online account management tools – with everything expected to be fully operational by September.
Your newsletter also updates you on the War on Cash, the War on Gold, some great silver products, reader questions, and much more:
Money Metals Depository to Open New Facility This Summer
Q & A: Our Readers Want to Know
Silver Coins, Rounds, or Bars: What's Better?
So download the PDF of this fantastic free newsletter right now and even pass it around to your friends! It's just another free benefit for those who have signed up for the Money Metals email list.
---