Client communications are a priority for us. If someone calls, we have live people answering the phone and ready to provide service. If you need support by email or by live chat, we respond promptly. This is, of course, good business, as it makes for happy customers!
However, it is great for another reason. A big part of what we do is provide timely and useful articles and podcasts you can use to stay current on developments that impact the metals markets and your investments. It helps us immensely to know what our clients are thinking about and what questions they have.
Here are a couple of questions we've seen recently, along with our responses…
Question: Premiums are lower across the board. What is the best buy currently – bars or sovereign coins?
Answer: Premiums (what dealers add to a metal's spot price per ounce, which include minting charges, wholesaler fees, shipping costs, and profit margins) are the LOWEST we have seen in years. It is a buyer's market for bullion coins, rounds, and bars, and there are plenty of good deals.
Whether it is sovereign coins or bars that represent the "best buy" will depend on what is important to you.
Bars (and 1-ounce silver rounds) offer the lowest overall cost per ounce. If "best buy" means "lowest price," these are the way to go. You can't go wrong buying the maximum number of ounces for the least amount of money, provided you are getting a quality product from reputable mints and refiners.
On the other hand, coin premiums are at cycle lows and there is a floor of sorts beneath them.
Sovereign mints, unlike private mints and refiners, are not responding to weaker sales by reducing minting charges. Based on our experience, we do not expect them to change course. That likely means coin premiums aren't headed much lower than they are right now.
People who prefer buying official, legal-tender coins for their recognizability and popularity should consider grabbing some now.
Customers who want to speculate on coin premiums might also want to jump in here. We've seen premiums on the silver American Eagle at more than double the current level in recent years. Chances are that will happen again the next time demand spikes.
Some buyers will even choose a middle ground and opt for a lower premium sovereign coin such as the New Zealand Bounty. The Bounty costs about $0.75 per ounce less than the Silver American Eagle and is also an official legal tender. New Zealand coins are not as widely traded and therefore less likely to see their premiums spike, but they are more than popular enough to be easily sold or exchanged at any time.
Question: Please tell me about the Monthly Savings Plan. What, if any, advantages are there to joining?
Answer: The Monthly Savings Plan is a great way to buy gold and silver on a disciplined monthly basis and save on the cost of shipping. Customers can choose one of four dates each month to make their purchase and take advantage of dollar-cost averaging, automatically buying more metal when prices are down and less metal when prices move higher.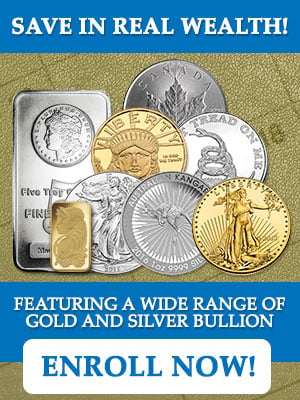 Thousands of Money Metals customers have enrolled and begun steadily accumulating gold and silver in quantities they can afford. They have avoided the small hassle of making phone calls and mailing checks. And they aren't worried about "timing the market" – something most of us will do poorly.
We recently took steps to make the Monthly Savings Plan even more attractive to join. Effective now, members enjoy $2 per ounce savings on gold purchases and $.05 per ounce lower silver prices whenever purchasing through the plan.
Members can also now eliminate the cost of shipping and insurance when they invest just $334 per month and choose the option to ship metals quarterly. Customers who store their monthly purchases with Money Metals Depository pay nothing to ship and insure regardless of how much they spend (although storage rates will apply).
We have also greatly expanded the number of items available for automatic purchase in recent months.
There are some big advantages to joining the Monthly Savings Plan, and we are adding to them all the time.

About the Author:
Clint Siegner is a Director at Money Metals Exchange, a precious metals dealer recently named "Best in the USA" by an independent global ratings group. A graduate of Linfield College in Oregon, Siegner puts his experience in business management along with his passion for personal liberty, limited government, and honest money into the development of Money Metals' brand and reach. This includes writing extensively on the bullion markets and their intersection with policy and world affairs.