Last Monday, the Shanghai International Energy Exchange launched the first futures contract for crude oil priced in Chinese yuan. It's a major step forward in the process of international de-dollarization. Now Chinese and other international traders can buy and sell the world's most important commodity in a liquid market without using U.S. dollars.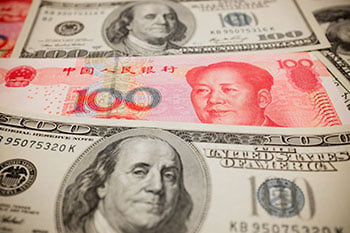 The "petrodollar" now faces the prospect of being rendered unnecessary as China – the world's biggest oil importer – attempts to establish a "petro yuan."
China is launching a pilot program to purchase oil from Russia and Angola (two of its top suppliers) using yuan. Russia and China share a common interest in trying to break the dollar's dominance in global commodity trading.
The two powers have been among the world's top gold accumulators in recent years, with some reports suggesting Russia is now also loading up on silver for the possible launch of a silver ruble. Russia and other emerging commodity supplier markets stand to be among the big beneficiaries of a weaker dollar, as does China.
That's a view echoed by Frank Holmes, CEO, and Chief Investment Officer at U.S. Global Investors.
Holmes told listeners of the latest Money Metals podcast, "When we went back over 20 years of data analysis, the emerging markets always do well with a weaker dollar. So, I think that bodes well for rising GDP per capita. And rising GDP per capita in China and India is very important for the love trade, which is 60 percent of all demand for gold, and also good for silver. So, I think from that end we could probably see this continuous buying like we've been seeing out of China."
The ability to sell oil for yuan, then trade yuan for gold in Shanghai, Hong Kong, or other regional exchanges bodes well for demand. Foreign sellers of oil to the Chinese don't necessarily want to hold the yuan per se, especially as China still imposes currency controls that prevent the yuan from being freely traded on international markets.
But an oil-to-yuan-to-gold pipeline could be good for everyone – that is, everyone except King Dollar.

About the Author:
Stefan Gleason is President of Money Metals Exchange, the company recently named "Best Overall Online Precious Metals Dealer" by Investopedia. A graduate of the University of Florida, Gleason is a seasoned business leader, investor, political strategist, and grassroots activist. Gleason has frequently appeared on national television networks such as CNN, FoxNews, and CNBC and in hundreds of publications such as the Wall Street Journal, TheStreet, and Seeking Alpha.