Download Your Free Copy of Money Metals Insider NOW! (Summer 2018)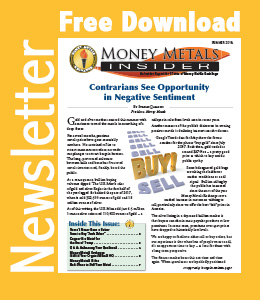 More freebies for you!
We're pleased today to grant you access to the Summer 2018 issue of Money Metals Insider – a FREE benefit for you, our valued reader.
Please check it out right away!
One big development is with digital currencies. Money Metals is now undeniably the U.S. leader when it comes to making payments to – and receiving payments from – precious metals customers.
And Money Metals is the #1 place in the country to sell your precious metals – we offer the best buy prices for those choosing to sell. We're very proud of both of these additional benefits you can access when doing business with our company.
Your newsletter also updates you on the precious metals market, the rare opportunity existing in pre-1965 silver coins right now, reader questions, and much more:
Q & A: Our Readers Want to Know


So download the PDF of this fantastic free newsletter right now and even pass it around to your friends! It's just another free benefit for those who have signed up for the Money Metals email list.
---