Historically, September has been the strongest month of the year on average for gold and silver prices.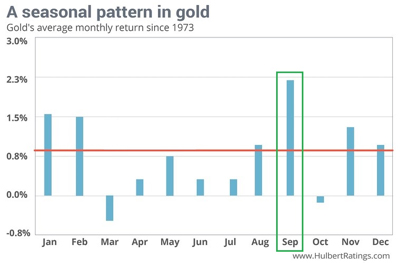 Of course, not all Septembers are average.
We don't recommend buying bullion for an expected one-month pop. Physical precious metals are long-term investments. A major bull market cycle will last not just weeks or months… but years.
That said, long-term investors should still be looking for favorable entry points. When you buy low, you get more ounces for your dollars.
Nobody can expect to be able to buy at an exact bottom. In a down-trending market, what seems like low prices tend to get even lower before the trend finally reverses. Gold and silver bulls have certainly gotten frustrated with prices continuing to fall below normal oversold conditions as record speculative short positions in futures markets persisted week after week.
Being on the wrong side of the trade can be disastrous if you're a leveraged speculator – but not so if you're a patient unleveraged investor who has kept some dry powder.
So rather than go all-in at one particular "low" point that looks attractive, it's usually more prudent to spread your purchases out.
When the spot price of the metal you want to own reaches an area that represents good long-term value, take a partial position. If prices fall further in the ensuing days, you can then add to your position at an even better value. If, on the other hand, prices rise after your initial purchase, your gains will help "pay" for an additional position.
Some precious metals investors prefer to just dollar-cost average into their position on a monthly basis and not even take price fluctuations into account. This takes all the emotion, hassle, and stress entirely out of the accumulation process.
You can increase your gold and silver reserves every month automatically through the Money Metals Exchange Monthly Savings Plan.
When you sign up, Money Metals will deliver gold and silver bullion directly to you in amounts you choose.
We offer silver bars, silver rounds, silver Eagles as well as a variety of sizes of gold all the way down to a gram. You can accumulate as little as 2 grams of gold per month if you wish.
You can either take delivery or store your metals holdings securely at Money Metals Depository. We offer high security, fully segregated storage in a state-of-the-art facility.
The advantages of putting your bullion accumulation on auto-pilot include not having to place new buy orders and never second-guessing your timing. It's a prudent way of accumulating a position over time.
Participants in our Monthly Plan also gain access to even lower premiums than those available to the general public! To sign up, enroll online or talk to one of our specialists by calling 1-800-800-1865.

About the Author:
Stefan Gleason is CEO of Money Metals Exchange, the company recently named "Best Overall Online Precious Metals Dealer" by Investopedia. A graduate of the University of Florida, Gleason is a seasoned business leader, investor, political strategist, and grassroots activist. Gleason has frequently appeared on national television networks such as CNN, FoxNews, and CNBC and in hundreds of publications such as the Wall Street Journal, TheStreet, and Seeking Alpha.