Download Your Free Copy of 
Money Metals Insider NOW! (Fall 2018)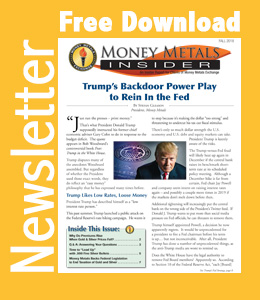 More freebies for you!


We're pleased today to grant you access to the Fall 2018 issue of Money Metals Insider – a FREE benefit for you, our valued reader.


Please check it out right away!


One big development is legislation Money Metals has helped bring forward in Congress that, if passed, would end the improper taxation of the monetary metals.
Your free Money Metals Insider newsletter also updates you on Trump's dispute with the Fed, the retail precious metals market, reader questions about bitcoin, platinum, and the gold:silver ratio, and much more.
Of course, not only does Money Metals offer super competitive pricing when you want to buy, but also we are without a doubt the #1 place in the country to SELL your precious metals as well.
Here are the highlights from your free Money Metals Insider newsletter:
Why Do Premiums Rise When Gold & Silver Prices Fall?
So download the PDF of this fantastic free newsletter right now – and pass it around to your friends! It's another free benefit for those who have signed up for the Money Metals email list.
---