Tuesday's elections produced some winners, some losers, some surprises, and some lingering uncertainties.
For investors, the potential for a major shock to the markets was averted. But with Democrats poised to take control of Congress, new legislative threats to wealth holders loom on the horizon.
Even though the GOP lost the House of Representatives, it gained seats in the Senate – a rare feat during a mid-term election for a party that controls the White House. President Donald Trump hailed the night a "tremendous success."
Biggest Winner: President Trump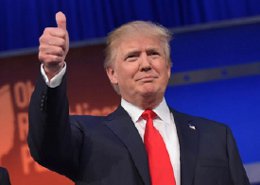 In more ways than one, President Trump emerged as a big winner on election night. He campaigned aggressively for several Senate candidates in states he had won in 2016. Thanks in no small part to his ability to energize the GOP base, a few races that had been widely thought to favor Democrat incumbents flipped to Republicans.
Trump-backed GOP candidates unseated Democrats in North Dakota, Indiana, Missouri, and Florida. Rick Scott's narrow victory over a three-term incumbent in the Sunshine State was one of the more surprising and electorally important outcomes.
The perennially "too close to call" state of Florida once again lived up to its reputation as Republicans picked up the Senate seat and the governorship by less than 1-point margins each. Looking ahead to 2020, the newly elected Republican governor and Senator can be expected to serve as assets on the campaign trail in helping Trump win the state's critical electoral votes.
At the end of the night, Trump didn't put all of his endorsed candidates over the top. His party DID lose control of the House.
That's not necessarily a bad outcome for Trump politically.
He never had a good working relationship with GOP House leadership. And since Congress is almost always unpopular with voters nationally regardless of who is in charge, a Congress led by the likes of hyper-partisans Nancy Pelosi, Maxine Waters, and Adam Schiff will be a useful foil on the campaign trail.
Meanwhile, the House is powerless to block Trump's judicial nominations.
Since the Senate rules now only require a simple majority for confirmations, Trump's picks should be able to sail through a GOP Senate with a wider majority. No longer will everything hinge on whether two or three wavering GOP centrists decide to side with Democrats.
However, it does remain to be seen whether some newly sworn-in Senators decide to become a thorn in Trump's side. Incoming Utah Senator Mitt Romney – once a sanctimonious "Never Trump" Republican and still a frequent critic – may try to fill the shoes of the late Senator John McCain as the media's favorite GOP anti-Trumpist.
Regardless, Trump should still enjoy enough of a buffer in the Senate to get what he wants through it. Democrats can use their House majority to launch endless investigations and demands for Trump's tax returns. But they probably don't have enough votes to impeach the President. Even if they do, there's no chance of conviction in the Senate, barring some shocking new revelation.
Biggest Loser: CNN
There were lots of big losers among the individual candidates who went down in defeat. The political loser who squandered the most money and the most hype from celebrities and the media was Beto O'Rourke, who ran unsuccessfully for Ted Cruz's Texas Senate seat.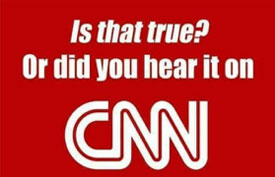 Beto did, however, make a name for himself among the ranks of the liberal left. He came within striking distance of turning Texas blue – no small feat. So while some political careers came to an end yesterday, Beto will almost certainly be back.
Beto's loss combined with the losses of media-hyped "history-making" candidates for governor in Florida and Georgia caused CNN contributor Van Jones to declare on live television that the election results left him "heartbroken."
The biggest loser of the election was CNN. Its race-baiting failed. Its Trump bashing failed. Its censorship failed.
In the weeks leading up to the mid-terms, CNN reporters waged vindictive campaigns to get influential pro-Trump alternative media personalities and activists kicked off social media platforms.
Then CNN refused to air a legitimate campaign ad approved by President Trump because the ad spotlighted illegal immigrant crime. That wasn't something CNN wanted voters to think about as they headed to the polls.
CNN's blatant attempts to interfere in the election on behalf of Democrats by restricting the political speech of Republicans is a new low for a media outlet that used to be considered a real news network.
Too Close to Call: The Outlook for Investors
A Democrat-controlled House won't be passing new tax cuts any time soon. Investors will have to brace for a new, uncertain, and possibly hostile legislative agenda out of Capitol Hill.
Rep. Maxine Waters, who has previously called for the nationalization of U.S. oil companies, is slated to head the powerful House Financial Services Committee.
Presumptive House Speaker Nancy Pelosi has entertained the idea of abolishing qualified accounts such as Health Savings Accounts and IRAs.
Newly elected socialist Alexandria Ocasio-Cortez wants to nationalize the healthcare system.
The increasingly anti-capitalist core of the Democrat party could begin to scare investors out of the stock market. And the budget deficit that is slated to rise to over $1 trillion in the next year could begin to weigh on the U.S. dollar.
It's too soon to tell how exactly the new Congress will impact markets. But contra-dollar assets including gold and silver can certainly help investors mitigate risk during the uncertain times ahead.

About the Author:
Stefan Gleason is President of Money Metals Exchange, the company recently named "Best Overall Online Precious Metals Dealer" by Investopedia. A graduate of the University of Florida, Gleason is a seasoned business leader, investor, political strategist, and grassroots activist. Gleason has frequently appeared on national television networks such as CNN, FoxNews, and CNBC and in hundreds of publications such as the Wall Street Journal, TheStreet, and Seeking Alpha.