Our clients occasionally ask which products offer the absolute lowest premiums. Here's the inside skinny…
Privately made bars and rounds, as opposed to government-issued coins, are hard to beat when it comes to low premiums. That is why we recommend them so often. Investors will often find the combination of uncirculated beauty and low cost to be a "sweet spot."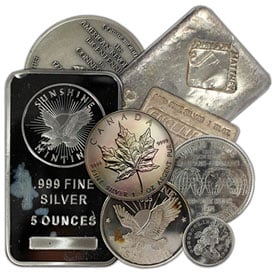 The only way to lower costs even further is to make some compromises when it comes to conditions. It is possible to buy scratched, dented, and/or tarnished items at a discount. Investors who don't care much about aesthetics, or don't mind cleaning tarnished items, can get more precious metal for their dollars.
We have mentioned cleaning, so it is important to be clear about when that is appropriate.
Cleaning non-collectible bullion coins, rounds, or bars can be done to improve the appearance of the items, but must be done with care.
Cleaning numismatic (collectible) or semi-numismatic coins is not recommended. Tarnish and "toning" may improve the value of those coins in some cases. Even if the tarnish does not add value, cleaning is almost always a bad idea. Cleaned numismatic coins generally lose most, if not all, of their value as collectibles.
Tarnished and scratched bullion products are a reality of the market, and they are therefore easy to trade.
Money Metals is constantly buying metal from our clients throughout the country. A few of these items arrive with condition issues. When that happens, the purchase price is discounted slightly, but the transaction is completed without hassle or delay.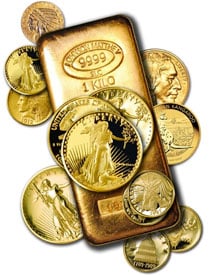 When it comes to silver, tarnish is the most common issue. Gold does not tarnish, but can be more prone to scratching and denting because of its softness.
We classify all scratched or dented gold and silver items as "Bargain Bin." Privately minted silver bars and rounds with tarnish are also given this designation. Silver American Eagles and silver Maple Leafs with spotting or tarnish, but in otherwise good condition, have their categories.
As we receive items with condition problems, we categorize them properly and then offer them to clients who aren't worried about beauty. There are plenty of investors in this description, and we usually have some stock available for them.
The math behind buying "bargain bin" bullion can be compelling. Maximizing the number of ounces of metal investors get for their money is going to be a winning strategy in most bullish scenarios. If metals prices rise substantially, more ounces will mean more profits.
That said, while you can save some money buying these items, you should also expect to get a bit less than you would for items in good condition when it is time to sell.
We typically only recommend "bargain bin" metal to investors who know what to expect. Gold and silver bullion products are manufactured to be beautiful, and we know from experience that most people will be happier with some serious gleam in their safe.

About the Author:
Clint Siegner is a Director at Money Metals Exchange, a precious metals dealer recently named "Best in the USA" by an independent global ratings group. A graduate of Linfield College in Oregon, Siegner puts his experience in business management along with his passion for personal liberty, limited government, and honest money into the development of Money Metals' brand and reach. This includes writing extensively on the bullion markets and their intersection with policy and world affairs.