Gold & Silver Prices Firm Despite Dollar, Stock Market Strength
Silver has fallen about $.45/oz from the early January highs, and gold has lost around $9/oz. Frankly, price action could be a lot worse.
During that time, the Federal Reserve Note dollar rallied and the equity markets roared higher. That combination should be bad news for gold and silver markets, but the premier precious metals have held onto most of their recent gains.
Perhaps the metals markets are seeing past the rally in the dollar. There isn't much to support that move higher, after all. The Fed recently signaled a dramatic about face on monetary policy.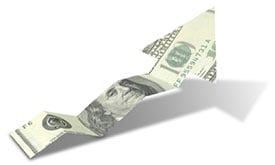 Two months ago, tighter monetary policy was a near certainty. Now, central bank officials are publicly putting the brakes on rate hikes and "Quantitative Tightening" – the program of steady selling from the massive hoard of bonds accumulated during the years of Quantitative Easing.
Recent inflation data (flawed as it may be) shows consumer and producer prices below the central bank's target. The equity markets clearly can't tolerate much more tightening given the stock market carnage last Fall.
The Trump Administration was none too happy about rising interest rates and the stronger dollar before stocks began selling off. More recently, Trump officials ramped up pressure on the Fed to change course. The Fed is now cooperating.
Why currency traders are currently bidding up the U.S. dollar is a mystery. It doesn't look like a sustainable move to us, given the people who manage its value are aiming lower.
Economic data comes in mixed. GDP growth has been slower than expected, and last week's retail sales data for December was awful. There are signs of weakness in real estate as well.
Stock market skeptics find the recent sharp rally hard to justify. They are looking at the data and the extraordinarily long bull run, smelling trouble. Some are taking the opportunity to exit and seeking a safe haven.
To be sure, precious metals price strength warrants some skepticism. But the underlying technical resilience is encouraging. We would have expected the Bullion Banks to cash in on the short position they've been building over the past couple of months.
They will need weak-handed speculators to fold, however. Thus far, those specs refuse to exit their long metals positions, despite the strength in stocks and in the dollar. That's good. We'll take it!
---