The roller coaster presidency of Donald Trump is currently riding high as the stock market races back up to new highs, economic data come in better than expected, and Congressional Democrats' endless investigations come up empty-handed.
Trump's approval rating recently hit 50% at the same time as CNN's ratings are tanking.
Over the weekend, President Trump sent CNN and the rest of the "MSM" (mainstream media) into a tizzy by speaking out against the latest Big Tech purge of "far right" voices.
Trump re-tweeted verboten alternative media personalities including Paul Joseph Watson and Lauren Southern.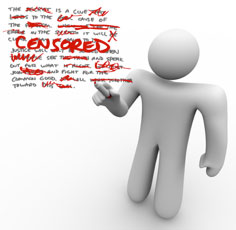 He even posted a video from Alex Jones' Infowars, which has been banned from virtually every online platform at the urging of the MSM.
Regardless of whether you agree with the views or tactics of particular individuals in the dissident right, the point is that the same Orwellian thought police who are systematically silencing them might next come for you.
In the tweet amplified by Trump, Lauren Southern mocked "establishment conservatives who think they won't be labeled the new 'dangerous' / 'extremist' voices when those to the right of them are all banned."
One side of the political spectrum has determined that it can't defeat the other side through reason in a free, open exchange of ideas. It has instead committed to silencing its opponents through organized de-platforming campaigns.
The liberal left of old, which would point to books like George Orwell's 1984 and Ray Bradbury's Fahrenheit 451 to make the case for free speech and tolerance of unpopular opinions, is no more. Today's left is authoritarian. It is the Big Brother of Orwell's dystopian novel.
In the name of "social justice," self-styled "progressives" have become the book burners of our time – aiming to digitally erase unapproved thoughts wherever they find them, whether on Facebook, Twitter, Google, or Amazon.
They're now trying to make sure people who have been digitally un-personed for wrongthink also have their access to bank accounts and credit cards revoked.
De-platforming mobs recently pushed Mastercard to create a "human rights committee" to screen customers for ideological conformity.
"A small number of banks controlling most of the financial sector could effectively illegalize legal commerce by refusing to finance certain industries or process certain transactions," warned Republican Senator Kevin Cramer.
Financial de-platforming is a very real concern not just for dissident activists but also for politically controversial industries such as firearms and even precious metals.
Senator Cramer has introduced the Freedom Financing Act. It would prevent big banks with over $10 billion in assets (which enjoy special government protections, privileges, subsidies, backstops, and bailouts) from discriminating against customers who engage in lawful commerce.
President Trump has yet to lay out specific policies to stop Big Tech political censorship. Some of his supporters are urging him to start by instructing government agencies to terminate contracts with monopolistic internet companies that suppress legitimate political speech.
Trump did recently issue an executive order requiring government-subsidized universities to respect free speech on campus. But it won't stop university professors and administrators from indoctrinating students with cultish levels of political correctness.
This week, students at California State University Long Beach will vote on a replacement for their former mascot, "Prospector Pete." For decades, Prospector Pete had stood as a symbol of California's gold mining heritage.

He was deemed to no longer be "inclusive" enough, particularly for "indigenous people," so administrators tore down his prominent statue on campus last year. Now the mascot itself will be sacrificed so that the hyper-sensitive and perpetually offended won't be upset by symbols of the exploitative and greed-fueled gold rush.
The California gold rush of 1849 lured thousands of people from near and far hoping to strike it rich as gold prospectors. Through a combination of grit, determination, and sheer luck, some did. But many others who risked life and limb prospecting for gold came away with precious little to show for their efforts.
All told the gold rush produced about $2 billion worth of precious metal. It also helped put California on the map, literally, as the 31st state. California entered the Union as a free state whose constitution explicitly prohibited slavery.
But to the authoritarian left, the history of gold is "racist," somehow, and needs to be erased. It's a goal fiat currency pushers and rigged financial system profiteers can also get behind.

About the Author:
Stefan Gleason is President of Money Metals Exchange, the company recently named "Best Overall Online Precious Metals Dealer" by Investopedia. A graduate of the University of Florida, Gleason is a seasoned business leader, investor, political strategist, and grassroots activist. Gleason has frequently appeared on national television networks such as CNN, FoxNews, and CNBC and in hundreds of publications such as the Wall Street Journal, TheStreet, and Seeking Alpha.