Gold prices have broken out of a massive multi-year consolidation pattern to the upside. That suggests the possibility of a massive multi-year rally ahead!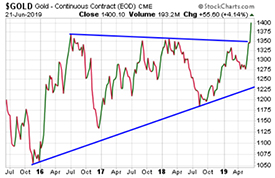 To be sure, there is also the possibility of some retracing and back-testing this summer before the $1,400 level is conquered for good.
The fall and winter periods are typically more conducive to big precious metals rallies.
Seasonality, however, isn't a dependable trading tool. Some technical analysts (who will go unnamed here) wrongly turned bearish on gold and gold stocks after they put in a disappointing early spring performance and were thought to be headed straight into the summer doldrums.
Instead, the summer solstice arrived with gold's chart displaying a powerfully bullish long-term setup.
The one glaring problem with the current setup in precious metals markets: silver hasn't yet confirmed gold's breakout.
Gold & Silver Price Update: June 21, 2019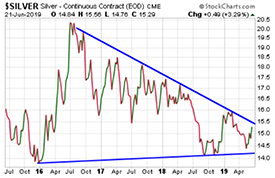 Silver needs to break above $15.50, then $16.00 (the last intermediate cycle high) to establish a bullish trend on par with gold's.
The white metal's lagging price performance in recent months has resulted in it trading at its biggest discount to gold in three decades.
Hardy silver bugs are excited at this rare opportunity to buy more ounces on the cheap. Others are understandably concerned that silver isn't showing any leadership during rallies in the metals sector.
Silver, being a smaller and naturally more volatile market than gold, is supposed to amplify gold's moves on both the upside and downside. So why is silver instead acting like an anemic version of gold?
Lots of reasons can be proffered – from record central bank buying of gold, to silver's reliance on industrial demand, to low (official) inflation, to market manipulation.
It probably comes down largely to investor psychology. When precious metals markets have been out of the "mainstream" news cycle for years – trumped by a rising stock market and the rise of digital currencies – the general public won't be interested in precious metals.
The super-rich and large institutional investors who are more apt to take contrarian positions in overlooked assets generally prefer gold over silver because it is more convenient for them to accumulate in large quantities.
We are still in the stealth phase of a precious metals bull market. When we enter the public participation phase – and demand for physical bullion increases – we do not doubt that silver will shine.

About the Author:
Stefan Gleason is CEO of Money Metals Exchange, the company recently named "Best Overall Online Precious Metals Dealer" by Investopedia. A graduate of the University of Florida, Gleason is a seasoned business leader, investor, political strategist, and grassroots activist. Gleason has frequently appeared on national television networks such as CNN, FoxNews, and CNBC and in hundreds of publications such as the Wall Street Journal, TheStreet, and Seeking Alpha.