Trade-In Some of Your Federal Reserve Notes Held In At-Risk Banks and Brokerages for the Money of Kings
MONEY METALS – Dollar devaluation rolls on unabated in the current global crisis.
Meanwhile, real gold and silver maintain their traditional places as the currency of kings.
Stefan Gleason here for Money Metals, where recent weeks have brought us a deluge of 4 times our normal volume of inquiries and orders from investors seeking the best options for buying precious metals at a great price – and storing them securely for an uncertain future.
Kings Don't Save In 'Benjamins' – They Demand Real Silver and Gold! Who Else Wants to Save Like a King?
In the weeks and months ahead, banks face major solvency questions as their commercial and personal customers struggle with costly business closures, devastating unemployment, and a recession (or depression) of unknown duration.
How soon banks will start to reach a tipping point is anyone's guess.
It's no wonder wise investors are rushing to swap out more of their devaluing Federal Reserve Notes (US Dollars) for the time-honored security of physical gold and silver –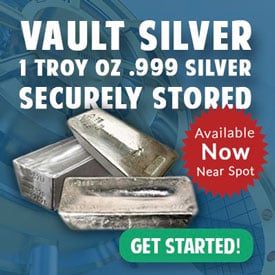 Demand for hold-in-your-hand forms of silver and gold has eclipsed historic levels, resulting in short supplies, high premiums, and unwelcome shipping delays... particularly at Money Metals' competitors.
Vault Silver and Vault Gold, in contrast, are in ample supply, are still available at super-low premiums, and are not impacted by delays in processing or shipping.
Your own Vault Metals storage account is secured by large "bricks" of very pure gold and silver – think of a poundcake but made from solid gold or silver.
Ownership of gold and silver in this highly efficient form has long been the hands-down preference of institutional investors – such as royalty, billionaires, national reserves, and very large banks (in New York, London, and Hong Kong).
Until now, ownership of large commercial bars has been unachievable to the individual investor (unless your name is Goldfinger, or begins with King, Prince, or Sheik).
The unit cost of a single 1,000 oz bar of silver is over $16,000; for a 400 oz bar of gold, $700,000. You'd need your vault, and your armed guard, to take possession of these!
But now, Money Metals is offering you a way to take ownership of portions of these large, cost-efficient bars, selling full legal ownership of as many ounces as you wish (minimum purchase is one ounce of gold or 100 oz of silver).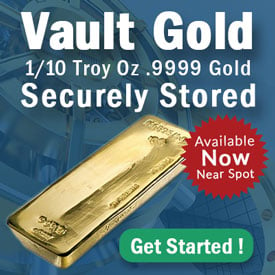 You won't need to install a safe in your home or arrange for an armored car. We hold your gold and silver in a very secure vault (a modest storage charge applies), and we deliver your proportional interest into your own Money Metals Depository storage account.
Your Vault Silver and Vault Gold ounces can be liquidated 24/7 at the spot price – you can always cash out quickly, with no shipping hassles.
Your holdings of physical precious metals are guaranteed and insured, held in your very own Vault Metals account at Money Metals Depository. You'll have a real savings account, one that cannot default and that maintains purchasing power forever – huge advantages over paper investments and electronic digits!
Learn more about Vault Silver and Vault Gold at MoneyMetals.com.
Who Else Wants to 'Save Like a King'?
Kings Don't Save In 'Benjamins' – They Demand Real Silver and Gold!
Learn more about Vault Silver and Vault Gold at MoneyMetals.com or call 1-800-800-1865.

About the Author:
Stefan Gleason is President of Money Metals Exchange, the company recently named "Best Overall Online Precious Metals Dealer" by Investopedia. A graduate of the University of Florida, Gleason is a seasoned business leader, investor, political strategist, and grassroots activist. Gleason has frequently appeared on national television networks such as CNN, FoxNews, and CNBC and in hundreds of publications such as the Wall Street Journal, TheStreet, and Seeking Alpha.