With the U.S. heading into an economic depression, it will likely motivate more investors to protect their wealth in precious metals. Thus, we could experience a U.S. economic depression and, at the same time, a bull market in gold and silver.
Interestingly, over the past two months, the major U.S. stock indexes heading higher even as economic indicators continued to show a BLINKING RED LIGHT. How? We can thank the Federal Reserve for single-handedly propping up the entire U.S. stock market. And, the important level on the Dow Jones which couldn't be breached, was the critical 18,000 support level. So, when the Dow Jones Index miraculously bounced off this level back in March, shouldn't be surprised. Watch the video below to find out why this is the case.
In my newest video update, WARNING: Economic Market Depression, Precious Metals Bull Market, I explain the deteriorating economic and financial indicators that point to real trouble ahead.
In the video, I explain that the forecast for the Industrial Production Index will continue to fall to a low of 77 in August, from a high of 109 before the global contagion. If you look at the following chart, the Industrial Production Index fell parallel with the Dow Jones Index during the 2008-2009 financial and economic crisis: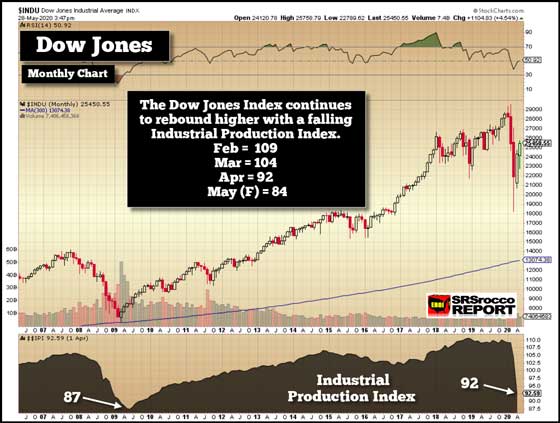 How did the Dow Jones Index turn around in April when the Industrial Production Index fell another 12 points from March to April (104 to 92)? And, the forecast for May is even lower to 84.
Furthermore, if we look at the massive increase in MZM Money Supply (liquid money supply), it surged nearly $3.6 trillion in just the past two and a half months. This present rate of increase of the MZM Money Supply was more than double the $1.5 trillion increase from January 2008 to June 2009: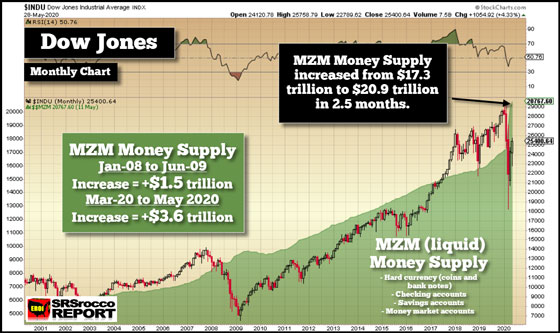 I believe the huge increase in MZM Money Supply will be very inflationary, especially for the precious metals. And, this is likely only the beginning. As I have stated in previous articles and videos, the second half of 2020 will bring much larger problems for the U.S. and global markets is the current negative economic indicators snowball. Thus, the Fed and central banks will have to print even more money.
Even though the demand for the precious metal will likely be strong for quite some time, I believe the SILVER PRICE WILL OUTPERFORM GOLD when investors realize there isn't that much physical silver available—more on this in future articles and videos.

About the Author:
Independent researcher Steve St. Angelo started to invest in precious metals in 2002. In 2008, he began researching areas of the gold and silver market that the majority of the precious metal analyst community has left unexplored. These areas include how energy and the falling EROI – Energy Returned On Invested – stand to impact the mining industry, precious metals, paper assets, and the overall economy.