Silver closed today right on an important KEY LEVEL. For the silver price to continue higher, it needs to break above this level. The last time silver reached this same price was back in early September 2019. And, if silver continues in a positive direction in early Asian trading, we may see a more substantial move higher tomorrow.
As I mentioned in my previous article, Silver & Gold BREAKOUT Above Important Technical Levels, silver finally broke above the $18.50 level. Silver closed today at $19.76, the same as it did on September 6th, 2019. This price comes from Stockcharts, which uses the Silver September Futures contract, which is not the same spot price quoted by Kitco. The September Futures contract has the largest volume of trading.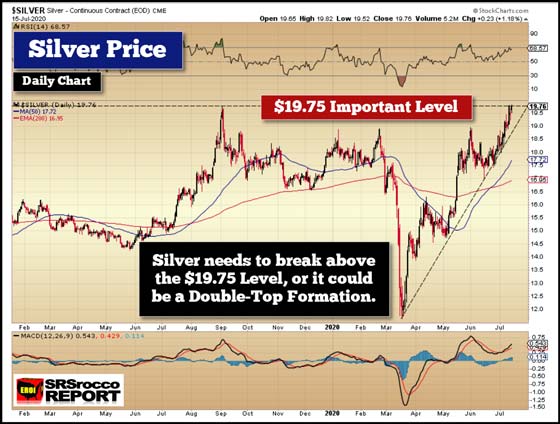 You will also notice that since mid-March, the silver price has been trading up that ascending line. If we focus on the short-term trading of the silver price, it must push above the $19.75 price to continue to the $21 level. However, if silver breaks below that ascending line, it can then correct lower by several dollars before moving up once again.
Now, if we look at the monthly silver price chart, it seems as if the momentum is still moving higher. Why? Well, the June candlestick closed above the $18.50 level. This is a good sign. The silver price hasn't closed above the $18.50 level since September 2016. With the July silver candlestick now $1.25 above the $18.50 level, traders may continue to push the price higher to $21.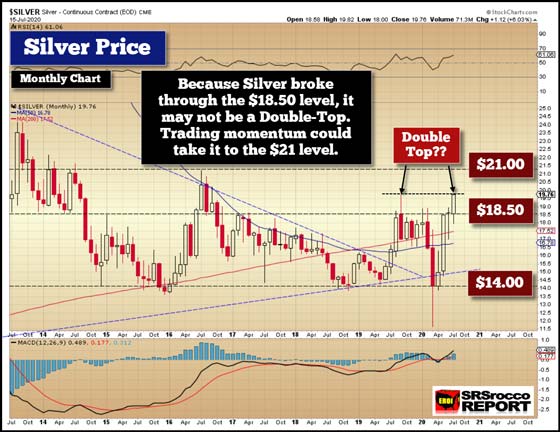 The daily chart above shows the $19.75 level, and so does the monthly chart. Some analysts would call the silver daily chart a possible "DOUBLE-TOP" formation. But, to me, if we look at the monthly chart, silver is set up much better than it was in September 2019. If silver can continue higher on Thursday and Friday, I believe there is an excellent chance it will reach $21 the following week.
On Monday, I posted a chart of Hecla Mining. I've been watching Hecla closely for a few weeks and noticed that it also had an important technical level to break above… $3.50. Once Hecla pushed above $3.50, it enjoyed a nice BREAKOUT.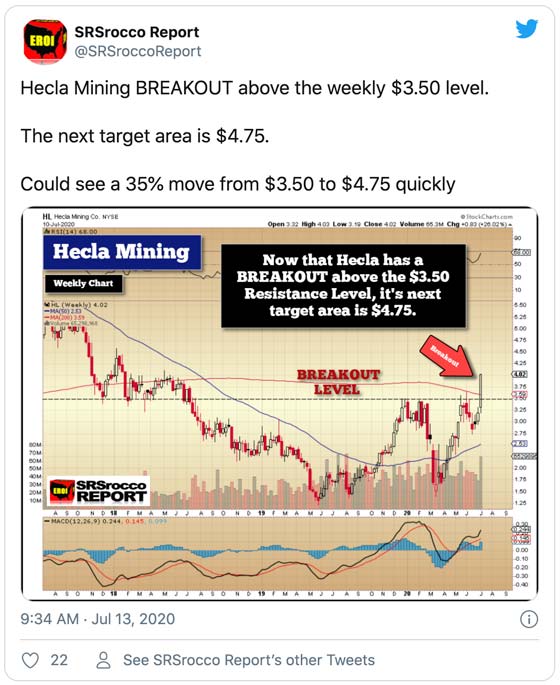 As you can see in the Tweet, I said that the next target area for Hecla was $4.75. You really can't see why there is a $4.75 target level, so here is my updated chart below: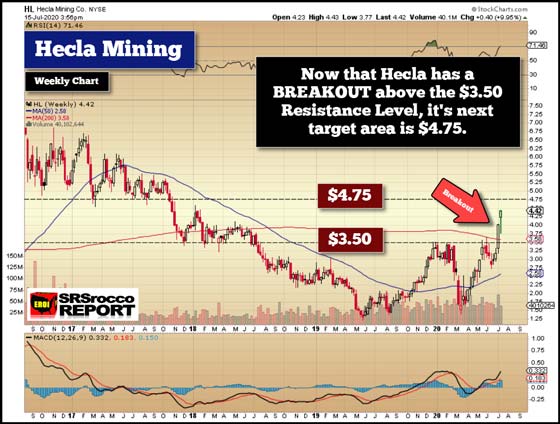 I believe there is an excellent chance that Hecla reaches $4.75, especially if silver goes up to $21. If silver does reach $21, Hecla would likely spike up to the $5.00 level before a correction.
Professional silver traders are keeping a CLOSE EYE on the $21 level. While $18.50 was an important milestone to breakthrough, the $21 price target is a MAJOR LEVEL for silver. Once silver closes firmly above $21 on a monthly basis, we are in a NEW BULL MARKET for the shiny metal.
Investors better start considering protecting some of their wealth in physical Gold & Silver.

About the Author:
Independent researcher Steve St. Angelo started to invest in precious metals in 2002. In 2008, he began researching areas of the gold and silver market that the majority of the precious metal analyst community has left unexplored. These areas include how energy and the falling EROI – Energy Returned On Invested – stand to impact the mining industry, precious metals, paper assets, and the overall economy.