Who Else Wants A FREE .999 Silver Buffalo Round?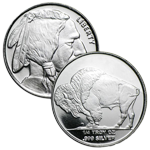 Simply Buy $1,000 in Silver and Receive a Free Buffalo Round (And Your Order Ships Free, Too!)
MONEY METALS EXCHANGE – Silver prices are on the move, and yet silver remains historically very low in relation to gold.
PLUS, you still have time to swap some of your overvalued stocks or cash for precious metals – PROVIDED you act before Wall Street's inevitable next 'correction.'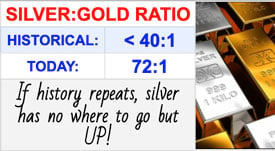 Wise investors are taking immediate action to protect themselves. In recent months, Money Metals' order volume has been as high as five times normal as we work late and add staff to serve savvy precious metals investors.
Take advantage of our Free Silver Offer and add to your savings with free shipping. Remember, only Money Metals Exchange gives you:
Super competitive pricing on all your metals purchases
Top-notch, "white glove" service that shames our competitors
Friendly, no-pressure expert support all the time
Total privacy and reliability for your peace of mind
Take advantage of today's bargain silver prices and get your FREE 1/2 oz Buffalo Silver Round and FREE SHIPPING! Order online or call our in-house experts at 1-800-800-1865.
Don't Miss Out! Order $1,000 or more in silver coins, rounds, or bars before October 11, and we'll throw in a FREE 1/2 oz Buffalo Silver Round (along with free shipping)
GRAB THE BARGAIN RIGHT NOW… RIGHT HERE.
How To Get Your Free 1/2 Oz Buffalo Silver Round (Along With Free Shipping)
Order online Here or Call 1-800-800-1865
---