The final weeks of the tumultuous year that has been 2020 present opportunities for investors to get their financial houses in order ahead of the New Year.
Nobody knows what 2021 will bring. But new political risks are likely to emerge – including the threats of higher taxes and a more punitive IRS.
With control of the U.S. Senate still up for grabs pending runoff elections in Georgia next month, and the final outcome of the presidential race still in dispute, an environment of uncertainty will reign for the remainder of the year.
President Donald Trump continues to pursue a longshot campaign to rescind fraudulent election results in multiple states through the courts or state legislatures.
The U.S. Supreme Court may ultimately determine the fate of Trump's legal challenges.
We'll leave the Constitutional questions to the legal experts.
Regardless of which side you're on, though, you should be prepared for the possibility that Joe Biden and Kamala Harris do indeed take power and deliver on their promises to increase spending and raise taxes on millions of Americans.
Biden intends to make former Federal Reserve chair Janet Yellen his Treasury Secretary. Yellen would presumably work closely with former colleague and current Fed chair Jerome Powell to carry out the government's and the central bank's priorities in tandem.
It isn't difficult to imagine an unprecedented level of coordination between fiscal and monetary policy. That may well be the point of her nomination.
The presumptive Biden administration will have twin objectives of raising tax revenues and raising inflation rates to help eat away at the real value of soaring government debt. Yellen is well suited to these "taxflation" objectives.
Janet Yellen opposed President Trump's 2017 tax cuts and supports a "carbon tax." She will undoubtedly be on board with the Biden/Harris agenda of eliminating the Trump tax cuts on "day one."
If that happens, it will mean a $2,000 tax hike on a typical middle-income family of four. And that's just for starters.
Biden also wants to double the top capital gains rate to 40% and force all investors to pay capital gains taxes at ordinary income tax rates.
Presumably, that would also apply to precious metals investors whose long-term gains on gold and silver coins are currently taxed at a top "collectibles" rate of 28%.
Even if a Republican-controlled Senate thwarts Biden's most ambitious tax-hiking plans, his Treasury Secretary will be able to implement taxpayer-adverse regulatory changes and direct more funding to the Internal Revenue Service for enforcement actions.
Yellen can be expected to push for more IRS audits of taxpayers and stiffer penalties for inaccuracies on returns. It's another way to "bring home the bacon" for the Washington, D.C. swamp.
A Precious Metals IRA Is a Wealth Protection 'Double Play'
Now is the time for investors to think strategically about how they might protect themselves – in 2021 and beyond – from the twin threats of inflation and taxation.
One potentially powerful strategy to consider is to sock away wealth in a tax-advantaged retirement account funded with physical precious metals. A time-tested way to hedge against currency depreciation combined with a shelter from ruinous taxation is a wealth protection double play!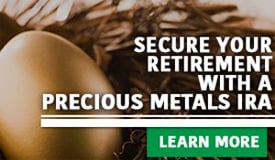 In some cases, a traditional IRA contribution – and contributions to other retirement accounts such as 401(k)s and 403(b)s may be tax deductible in the year made (consult with your tax advisor), so maxing out contributions for 2020 is a great year-end tax strategy.
If you have already maxed out your 2020 IRA contributions, it's not too early to be thinking about getting a head start on 2021. By making those contributions as soon as possible in the New Year, you can maximize the time period those assets enjoy tax deferral.
For 2021, the IRA contribution limits for individuals ($6,000) and those over age 50 ($7,000) will be the same. But the income thresholds for being able to deduct your contributions or contribute to a Roth IRA are both bumped up slightly.
Not only can you purchase, hold, and sell real precious metals inside a tax-advantaged Self-Directed Precious Metals IRA, but also you can withdraw your bullion and take direct physical possession of it under normal IRA distribution rules.
The IRS does impose certain restrictions on size and purity, but a wide variety of bullion coins, rounds, and bars are eligible. In addition to gold and silver, you can even hold physical platinum and palladium within an IRA.
To get started in funding a Self-Directed Precious Metals IRA, choose a reputable account trustee then arrange for a bullion dealer such as Money Metals Exchange to ship your IRA-eligible bullion to your designated depository. (Money Metals Depository is approved by several IRA trustees such as New Direction and Mountain West.)
What if you have an existing IRA but don't want to make new cash contributions to fund a precious metals purchase?
A conventional IRA, whether Roth or traditional, can be converted to a Self-Directed Precious Metals IRA. Switching is easy. Most providers can enroll you right online and work directly with your existing IRA custodian to transfer funds.
Your broker may have never told you about these fantastic options (for obvious reasons). But they are legitimate.
In an environment such as we could be heading into, where conventional paper assets begin to underperform and political risks accelerate, physical precious metals shielded from taxes could be among the few true safe-havens.

About the Author:
Stefan Gleason is President of Money Metals Exchange, the company recently named "Best Overall Online Precious Metals Dealer" by Investopedia. A graduate of the University of Florida, Gleason is a seasoned business leader, investor, political strategist, and grassroots activist. Gleason has frequently appeared on national television networks such as CNN, FoxNews, and CNBC and in hundreds of publications such as the Wall Street Journal, TheStreet, and Seeking Alpha.