We're pleased today to grant you access to the Winter 2021 issue of Money Metals Insider – a FREE benefit for you, our valued reader.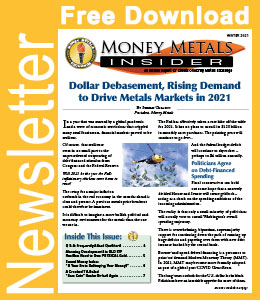 This special newsletter is packed with actionable information about the markets, plus details on some special offerings from Money Metals Exchange.
Things are heating up right now, so now is a good time to be paying especially close attention.
Don't miss our 2021 forecast for the precious metals markets. We also issue a new warning about holding gold in the form of exchange-traded-fund (ETF) shares.
Plus, we report on an unfortunate incident involving another corrupt "rare coin" dealer, answer some common customer questions, and rank all 50 states on their friendliness to sound money.
Here are the highlights from your free Money Metals Insider newsletter:
Dollar Debasement, Rising Demand to Drive Metals Markets in 2021
Q & A: Frequently Asked Questions
So download the PDF of this fantastic free newsletter right now – and pass it around to your friends! It's another free benefit for those who have signed up for the Money Metals email list.