We're pleased today to grant you access to the Summer 2021 issue of Money Metals Insider – a FREE benefit for you, our valued reader.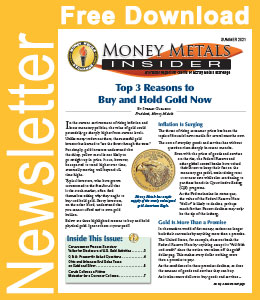 This special newsletter is packed with actionable information about the markets, plus details on some special offerings from Money Metals Exchange.
Don't miss our special report on sound money efforts at the state and federal levels, including two great legislative victories achieved by Money Metals as we strive to expand the list of states that exempt gold and silver from sales taxation.
We also review the top reasons to own gold now and draw some chilling parallels between the short-term thinking that ultimately caused the Miami condo collapse... and that could cause a currency collapse.
All that and more! Here are the highlights from your free Money Metals Insider newsletter:
Q & A: Frequently Asked Questions


So download the PDF of this fantastic free newsletter right now – and pass it around to your friends! It's another free benefit for those who have signed up for the Money Metals email list.