Money Metals Expands Its Lineup of Valcambi CombiBars
As a result of their high popularity, an expanded lineup of Valcambi CombiBars is available through Money Metals Exchange – minted of gold, silver, or platinum.
These versatile bars are produced by Valcambi, one of Switzerland's largest and most reputable refiners.
Choose from a Variety of CombiBar Options:
20 gram, 50 gram, and 100 gram gold bars – with each bar easily broken into 1-gram sections carrying the Valcambi hallmark and markings for its weight and purity (.9999).
1 ounce gold bars that can be broken into 1/10 oz bars.
100 gram silver bars that can be broken into 1 gram or 10 gram bars.
50 gram platinum bars that can be broken into 1 gram bars.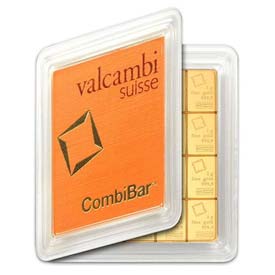 All this flexibility comes with far lower cost than purchasing equivalent quantities of smaller bars. And the relatively low premiums make these CombiBars a great option for buyers desiring to own fractional gold, silver, or platinum.
Prudent investors who have already spotted the coming crisis in fiat currency are making preparations to have precious metals on hand to use as money if necessary. CombiBars were designed for that purpose.
Recent events in Venezeula are a good example of how a currency crisis strikes suddenly, leaving citizens scrambling to find alternatives to the official fiat money (the bolivar) – an extraordinarily difficult situation.
Just remember, the Valcambi brand name, tamper-evident packaging, and assay carry some additional value. It is therefore advisable to maintain your Valcambi CombiBars in their original packaging unless you need to separate some portion to complete a trade.
When it is time to re-sell your bars, any reputable bullion dealer will be happy to buy them, on-the-spot, and at a fair price. Of course, Money Metals is always eager to buy your precious-metals coins, bars, and rounds and generally pays the highest amounts as compared to the rest of the industry.
---