Grab a Stunning 24-kt Solid Gold Bracelet at Low Bullion Prices
Here's a Christmas gift that doubles as a great investment...
For a limited time Money Metals is offering wearable 24-kt gold bullion at unheard of low premiums – just a hair above melt value.
And every one of these beauties ships absolutely Free!
Money Metals' 1 oz. gold bracelet is beautiful, durable, and .9999 pure.
Best of all, it's priced at less than 17 percent over melt value (at roughly $300 premium to current spot prices).
Yes, it's possible to have jewelry that is ACTUALLY WORTH what you paid for it! And can be resold without taking a huge hit (we pay roughly spot if you sell it back).
Compare this superb value with the sky-high markups we uncovered on gold bracelets from leading retailers:
Macy's "solid gold" 14-kt polished bangle bracelet has sold for $10,300! In spite of being touted as solid gold, 14-kt gold is a mere 58.3 percent gold and over 40 percent "other metals." The markup above melt value on this item is unknowable, as the seller chooses not to disclose the weight of the bracelet to the consumer.
Bulgari's gold polished bracelet at $4,600 has somewhat more gold at 18-kt, but that's still only 75 percent pure gold. Like Macy's, the actual weight is not disclosed. You are right to wonder why these sellers wouldn't want you to know how much gold you're really getting for your money.
Sarraf Jewelry's 10mm Domed Omega Bracelet has sold for $1,981 and contains 1.11 oz of 14-kt gold. That's just 0.65 oz of pure gold, making the retail price 75 percent over melt value.
As in informed precious metals buyer, you would never buy any gold item without knowing how many ounces of actual gold you are getting for your money. And you'd never pay double or triple the melt value!
Money Metals' 24-kt gold bracelet fulfills our promise to always bring you the most metal for your money. We offer this beautiful item for less than $2,100 – one full troy ounce of gold, and no compromises!
There really is no comparison – our gold bracelet means more gold for your money – period!
Our customer Dennis W. bought this bracelet for his wife and wrote back to say:
"A truly beautiful piece of jewelry. The hammered finish compliments the bracelet and the sheen of genuine gold just can't be beaten. My wife loves this as much or more than any other jewelry I've given her."
Our pure gold bracelets are manufactured with care here in the U.S. and stamped with ".9999" purity on the inside face. Give one of these bracelets as a gift; put one on your own wrist or simply add them to your holding. We will ship them in a gift style box with a certificate of authenticity.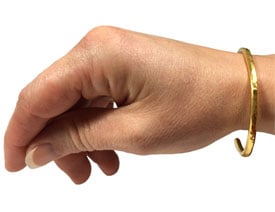 The classic and simple design is suitable for either a man or a woman.
The bracelet has a metal weight of 1 troy oz, is 0.5 cm in diameter, and fits wrists up to 8.5 inches. The bracelet will expand or contract to provide a comfortable and secure fit to any wrist – man or woman.
FREE SHIPPING! Every precious metals order of $500 or more ships free at Money Metals, adding even more to your savings.
Shop with confidence at MoneyMetals.com or call one of our precious metals specialists at 1-800-800-1865.
---