As an overall disappointing year for gold and silver markets winds to a close, metals investors are looking ahead to 2022.
There are good reasons for optimism – precious metals prices appear poised to reflect broader inflationary pressures – but the bullish outlook isn't without risk.
One of the biggest threats to hard assets next year would be a rising U.S. dollar index in anticipation of Federal Reserve monetary tightening.
Whereas the Fed has signaled its intent to raise interest rates later in the year, the European Central Bank has not. That could bode well for the Federal Reserve Note "dollar" as measured against the euro.
Some investors assume wrongly that a rising greenback on foreign currency exchanges spells doom for gold. While it can be a headwind, there is also precedent for precious metals to rally alongside a nominally strong dollar.
To put the dollar's "strength" in perspective, this year it is up about 7% against a basket of foreign currencies. In reality, though, the fiat currency has lost more purchasing power in 2021 than in any year since 1982. Inflation, as measured by the Consumer Price Index, hit an annual rate of 6.8% last month.
The dynamic that played out last year, in which precious metals markets were largely absent from the inflation scene, seems unlikely to repeat. They have a lot of catching up to do.
Low spot prices make the fundamental case for gold and silver stronger. Low prices for mined products mean miners have less incentive or ability to ramp up production in the face of rising demand.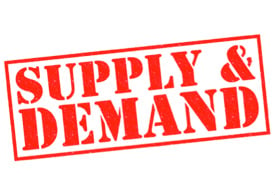 The Silver Institute forecasts a supply deficit for the physical silver market in 2022.
Analysts note that industrial demand is rising, especially on the green energy front where the white metal is used in solar power and electric vehicle applications.
Demand for gold is also strengthening. Global jewelry demand recovered impressively this year, especially in India where it is culturally significant within the world's biggest customer base.
Central Bank's buying of gold has the potential to expand, especially if tensions rise with China, Russia, and other countries that are adversarial to the U.S. dollar as a world reserve currency. Meanwhile, inflation concerns recently prompted Ireland to add to its gold reserves for the first time in 12 years.
The big wild card for 2022 could be the extent of precious metals buying by investors and speculators.
Bullion demand came in strong this year, causing premiums to stay elevated on many products, including American Eagles.
On the speculative side, however, futures trading has been dominated by institutional short sellers.
Small speculators continue to be more enamored with Wall Street products and cryptocurrencies than with anything tangible that comes out of the ground.
If enthusiasm for paper and digital assets begins to diminish, then gold and silver markets could be prime beneficiaries. At some point, stimulus-propelled financial markets will run out of fuel.
Inflation itself, though, is almost certain to persist. The question for investors is how to ride the next wave of inflation.
There are many potentially viable plays available – from equities (in favorable sectors), to cryptos, to real estate, to collectibles, to various hard assets.
But at the core of any inflation protection strategy for 2022 (and beyond) is sound money itself in the form of physical gold and silver.

About the Author:
Stefan Gleason is President of Money Metals Exchange, the company recently named "Best Overall Online Precious Metals Dealer" by Investopedia. A graduate of the University of Florida, Gleason is a seasoned business leader, investor, political strategist, and grassroots activist. Gleason has frequently appeared on national television networks such as CNN, FoxNews, and CNBC and in hundreds of publications such as the Wall Street Journal, TheStreet, and Seeking Alpha.