6 Outstanding Students Earn Almost $10,000 in Tuition Assistance
Eagle, Idaho (December 6, 2022) – Six outstanding students beat out almost 100 of their high-school and college peers in making the best case for sound money through an international, gold-backed scholarship competition...
...and the winners walked away with a total of $9,500 in scholarship awards for their exceptional, thought-provoking essays.
For the sixth-straight year, Money Metals Exchange, the U.S. precious metals dealer ranked "Best Overall" has teamed up with the Sound Money Defense League to offer the only gold-backed scholarship of the modern era.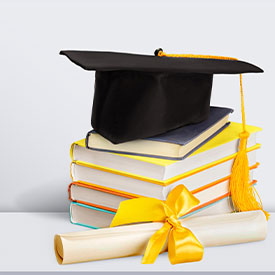 These groups have set aside 100 ounces of physical gold to reward over time those exemplary students who display a thorough understanding of economics, monetary policy, and sound money.
"Students and Americans everywhere are living through the ongoing and deliberate devaluation of the Federal Reserve Note version of the dollar," said Stefan Gleason, president of Money Metals Exchange.
"We're pleased to foster a greater understanding of the root cause of this problem through our Sound Money Scholarship program," continued Gleason.
All scholarship applicants submitted an essay responding to one of the various prompts on topics such as the problems of the Federal Reserve System, how a truly free market unencumbered by government intervention would handle money, or how America could best restore a gold or bi-metallic standard.
The 2022 Sound Money Scholarship winners are as follows:
Undergraduate Winners:
First place ($3,000): Chikwem Ihekweazu, University of Tennessee
Second place ($2,000): Samuel Peterson, Grove City College
Third place ($1,000): Jakob Gabaree, Kingwood High School
Fourth place ($500): Asjia Roberson, University of Southern California
Graduate Winners:
First place ($2,000): Arturo Moreno, Pennsylvania State University
Second place ($1,000): Estefania Calmet, Vanderbilt University
With the assistance of Sound Money Defense League and Money Metals Exchange leaders, the following blue-ribbon panel of judges selected the finalists:
Since its creation in 2016, the Sound Money Scholarship program has attracted hundreds of applicants representing more than 300 different high schools, colleges, institutes, and universities across more than 40 states, 7 countries, and 4 continents.
"The quality of essays this year was extremely encouraging. It seems with today's backdrop of record-high inflation, students are keenly aware of the importance of restoring sound money and the role it has played throughout history," said Jp Cortez, policy director of the Sound Money Defense League.
"The Sound Money Scholarship continues to provide students an opportunity to defray the ever-increasing costs of attending college," continued Cortez.
The highly excellent (and winning) undergraduate essay written by University of Tennessee student Chikwem Ihekweazu is posted here.
The deadline to submit applications for consideration next year is October 31, 2023. For more information, visit moneymetals.com/scholarship or email [email protected].
---
The Sound Money Defense League is a non-partisan public policy group working nationally to restore sound money at the state and federal levels.
Money Metals Exchange is a national precious metals company recently named "Best in the USA" by an independent global ratings group and serves almost 500,000 investors in physical gold, silver, platinum, and palladium. The company also operates the largest precious metals depository in the western United States and a collateral lending group. For more information, please visit https://www.moneymetals.com/.