Download Your Free Copy of Money Metals Insider NOW! (Winter 2023)
We're pleased today to grant you access to the Winter 2023 issue of Money Metals Insider – a FREE benefit for you, our valued reader.
This special newsletter is packed with actionable information about the markets, plus details on some special offerings from the top-rated precious metals dealer in the United States.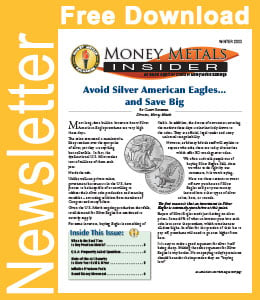 At the outset, we shed light on the crazy situation involving Silver Eagle premiums – including why to avoid these coins like the plague when considering new purchases.
Also, learn how to know when it's a good time to buy precious metals.
Meanwhile, we give a run-down on our Sound Money project – including how you can help us win even more legislative victories on behalf of all Americans as well as precious metals investors.
Here's more about what's inside your free Money Metals Insider newsletter:
So download the PDF of this fantastic free newsletter right now – and pass it around to your friends! It's another free benefit for those who have signed up for the Money Metals email list.
---