We're pleased today to grant you access to the Spring 2023 issue of Money Metals Insider – a FREE benefit for you, our valued reader.
This special newsletter is packed with actionable information about the markets, plus details on some special offerings from the top-rated precious metals dealer in the United States.
Leading off the issue, we discuss the much-overlooked pitfalls of holding savings in cash, even as interest rates are presently higher than they've been in many years.
Plus, we give you the inside skinny on a blowup at another extremely dishonest "rare" coin peddler in the industry. It's so important to work with a precious metals bullion dealer that is trustworthy, and we reveal some of the telltales to look for.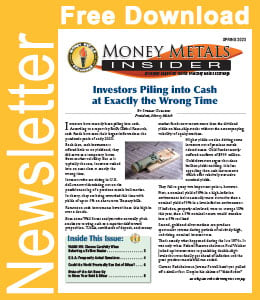 Meanwhile, we explain why the silver mine supply available today is unlikely to last for more than a few more years... unless prices rise substantially. And don't miss our highly popular Q&A feature!
Here's more about what's inside your free Money Metals Insider newsletter:
So download the PDF of this fantastic free newsletter right now – and pass it around to your friends! It's another free benefit for those who have signed up for the Money Metals email list.