Want More Precious Metals News? Subscribe to Our Podcast!
Comey Testimony Fails to Live Up to Media Hype
David Morgan Exclusive: Gold and Silver at Breakout Point from 6-Year Downtrend
---
Don't want to listen? Read the podcast below!
Welcome to this week's Market Wrap Podcast, I'm Mike Gleason.
Coming up David Morgan of The Morgan Report joins me for a terrific interview on counterparty risk and other dangers in today's markets and also shares his thoughts on when he expects the metals to turn and what the smart money is already doing. Don't miss a tremendous interview with the Silver Guru, David Morgan, coming up after this week's market update.
Gold and silver markets extended their month-long rally earlier this week before giving back gains as former FBI Director James Comey testified on Thursday.
The Comey testimony largely failed to live up to the media hype. He called President Donald Trump a liar but didn't drop any major bombshells that would enable Democrats to make the case for impeachment. The biggest impact of Comey's remarks may have been that they refuted a barrage of conspiracy theories and fake news about President Donald Trump's supposed Russia connections.
Impeachment is off the table, at least for now. But a future political crisis emanating from this White House can't be ruled out – particularly given the nastiness and intensity of its opponents.
What would it mean for Wall Street and, more importantly, main street? Consider the recent history of presidents who have gotten themselves into trouble. Neither the resignation of Richard Nixon nor the impeachment of Bill Clinton caused the stock market to crash. Precious metals markets didn't move much around these momentous political events, either.
President Nixon resigned on August 8, 1974 with gold trading at $152/oz. Gold began the year at $117 and finished at $195/oz. Nixon's resignation occurred within a major year-long rally and doesn't seem to have altered its trajectory.
Far more significant than Nixon handing over the keys of the White House to Gerald Ford was Nixon's fateful decision on August 15, 1971 to close the gold window.
Previously, U.S. dollars had been redeemable in gold by foreign countries. But the Nixon administration feared a run on U.S. gold reserves.
Henceforth, the U.S. dollar would be a fiat currency with no formal link to gold. As a consequence, inflation fears began to build – slowly at first, but then manically by 1980 with gold prices spiking to $850/oz.
The Watergate scandal that made Nixon infamous didn't really have anything to do with what unfolded in markets in those ensuing years.
The real Nixon legacy is what happened to the dollar after he ended its redeemability in gold. The consequences of the dollar's lost status as a hard currency are still playing out.
Perhaps now that it's pretty clear Trump won't suffer the same political fate as Nixon – much to the chagrin of his Washington Establishment detractors -- Congress will be able to get into gear on tax reform, infrastructure, and other legislation investors have been patiently waiting for.
Five months into his presidency, Donald Trump still hasn't been able to achieve much on the legislative front. His budget proposals have been declared dead on arrival by members of his own party. And the closely divided U.S. Senate will struggle to pass even a watered down version of healthcare reform. Any tax cuts that finally do get taken up can also be expected to come up far short of what the White House wants.
On Thursday, the House of Representatives passed a bill to repeal Dodd-Frank regulations that put enormous compliance burdens on banks. This bill also repeals the so-called Volcker rule, which bars banks from engaging in many types of speculative trading.
Supporters of the Volcker rule are warning that giving banks free rein to speculate could invite abuses and raise systemic risk levels in the financial system. They have a point. Too big to fail banks that blow up their derivatives books with excessive leverage, then demand to get bailed out by taxpayers, need to be reined in somehow.
In recent years, big banks have repeatedly been caught manipulating markets, including gold and silver markets. Just last week a Deutsche Bank trader named David Liew pleaded guilty in U.S. court to manipulating gold, silver, platinum, and palladium futures. The scheme involved spoofing, or putting in fake orders that don't get filled, in order to move prices.
The rogue trader admitted to conspiring with others at Deutsche Bank and other institutions. In documents produced in court, he alluded to learning his tricks from a mysterious individual called "the master" and "the legend."
Deutsche Bank had previously been fined a record $2.5 billion for rigging interest rate markets and nearly $100 million for rigging gold and silver markets. Apparently, though, a culture of trying to game the system still persists within many of the world's most powerful banks.
The forces of price suppression were on display this week in the gold market as prices neared $1,300 an ounce. Large institutional futures traders commenced selling at the resistance level to prevent the rally from continuing.
As of this Friday recording, gold comes in at $1,267 and registers a 0.9% weekly loss. Silver prices are lower by 2.2% this week and now come in at $17.26 per ounce. Platinum is off by 1.5% to trade at $944, while palladium is up 5.0% since last Friday's close to trade at $885 an ounce after having eclipsed $900 earlier today for just the second time since 2001 before pulling back.
Looking ahead to next week, the Federal Reserve is expected to announce a quarter point rate hike as it meets on Tuesday and Wednesday. This, despite the fact that economic growth came in weak for the first quarter and is likely to disappoint for the second quarter.
It will be interesting to see how the bond market acts over the summer. If the yield curve flattens – meaning rates come down on longer-term bonds to narrow the spread over short-term debt – that could signal the economy is weakening. That, in turn, would crimp the Fed's ambitions of continuing to hike rates.
Well now, without further delay, let's get right to this week's exclusive interview.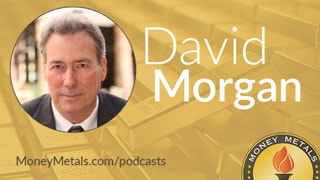 Mike Gleason: It is my privilege now to welcome in our good friend David Morgan of The Morgan Report. David, it's always a real pleasure to have you on with us and I'm especially excited to talk with you about some of the topics we've got on tap today. How are you?
David Morgan: I'm doing well Mike, thank you very much.
Mike Gleason: Well, as we begin here David, I want to talk to you about the danger of complacency because I think it's a very appropriate topic for the times we're in right now. To you and me and to many others in our space with a similar world view, we see a whole slew of reasons to own precious metals. We have threats of war in many places throughout the globe. We have a president here in the U.S. who the establishment hates and is hoping to oust if they get the chance. We have nation central banks printing new fiat currency at unprecedented levels all throughout the world.
An entire continent over there in Europe that appears to be potentially at risk of seeing their political and currency union falling apart, terror threats all over the place, the refugee crisis, the list goes on and on. But all the while we have this stock market continuing to make all-time highs with most people seeming to believe that everything is hunky dory while completely ignoring all of those geopolitical and monetary headwinds, or for those who seem to grasp all of that, all that's going on, maybe starting to believe that it doesn't matter. Because, after all, the feds and the central planners are going to be able to manage this thing forever.
So, talk about complacency here David, why aren't we seeing more flock to safe havens, at least not here in the Western world, and discuss the dangers that exist if we let ourselves fall into the complacency or the "nothing is ever going to change" type of mindset.
David Morgan: Well, that's a tough one. I would say first is eternal vigilance, I mean freedom depends it, so my idea or ideal from the beginning has been that all fiat currency will eventually fail. And I also believe that it would happen within my lifetime and I'm certainly older than I was when I held that belief, yet I still hold it. So, really there's a mandate to hold some portion of your wealth in a savings, in other words, the way capitalism is supposed to work you build from a savings base and that savings is put into a capital formation, which means you construct something be it software, hardware, a building, automobile, whatever, and that becomes a benefit to society at large and they vote in the marketplace with their dollars to further the projects so to speak. Make a profit, which returns to the initial investors and on it goes. So that's the ideal.
My statement was that in times like these rather than be a true capitalist – which is what I just outlined – it requires further savings because there's too many uncertainties out there with one certainty: every fiat currency on planet Earth in all of recorded history has always failed. So, to say that the dollar won't is a misstatement, at least based on past history. Is it going to, for this time, be different? Eh, I guess it's possible. But if we look at it objectively and we state, well, let's really see what's gone on with the U.S. dollar, if you look at the Federal Reserve Board's own website, they will freely admit that the 1913 dollar is worth about three cents today. So you have a 97% loss when their mandate was to basically keep the currency stable. They have failed miserably.
Most people that follow what you do, what I do, what the hard money camp, the gold/silver guys talk about, they understand this, but they are very tired out, worn out. I mean I coined the phrase a long time ago that "the silver market would either scare you out or wear you out." We are definitely at the wear you out phase. And this is where complacency sits, in where they've manipulated the market, we even have proof Deutsche Bank admits it, there is a new CFTC ruling that's gone on, that they've singled out an individual that's going to turn over evidence and probably bring others into the mix on spoofing the market in the silver market, and yet we don't really see any real significant price change.
So, the complacency (mindset) is, look, I know what's going on but it doesn't matter because these guys have got control and they are always going to have control. You know, it brings to mind, the adage, the dark comes before the dawn, the big struggle for seed to germinate, that last little oomph that is required and I think we are very close to the tipping point and I'll add onto that.
First of all, I want to back up a second Mike. As you know, and you're on my service, I put an alert early in the morning about the second week of May and I said I think this is it. Meaning, the fundamental significant shift between paper assets and hard assets, I think, we don't know yet, that gold and silver had turned to the up-side and stocks to the down-side. Now, since I made that statement, stocks have made a new high, so let me get that on the record. However, it looks to me as if we are getting a confirmation on that with gold right now. Because gold is right at the breakout point from a six year down trend and it's mostly safe haven buying, but it's not the people that I just referred to, it's basically the smart money, which means big investors, large hedge funds, and China primarily.
China's gold demand is set to surge about 50% to about 1,000 metric tons this year. Their demand for gold bars are on track to make a 50% move in 2017. The geopolitical risk internationally is probably at an all-time high and this is leading to safe haven demand again, for smart money, nation states, people in the know, people that have basically sold off their stocks quite some time ago near the highs, that have capital sitting on the side lines and that is starting to filter into the gold market. And then you've got of course, a lot to do with the U.K. election, terrorism, the risking tensions in the middle east, and all of this is supportive of the gold, especially after the attacks in London that took place recently.
And the other fact, is that gold is 12% higher for the year and it's actually out performing stocks. Yet, if you stopped the average investor on the street and asked them what's doing better this year, I'd say about 90%, probably higher than that, probably 98% would say, well stocks are doing better than gold.
Mike Gleason: Yeah, it's a very valid point. As a follow up here, and this is kind of an open ended and very broad topic, but comment on counterparty risk, because I know that is something that you've been covering in The Morgan Report recently. Take it wherever you want, but share your thoughts there, because part of this complacency is failing to recognize the tremendous amount of counterparty risks that exist in the world today, give us your thoughts there David.
David Morgan: Yeah, I could go on, I'll try to be succinct. First of all, the belief system is so strong, and yet the truth is sometimes actually opposite of a very, very strongly held belief. The belief globally for all of the establishment economic system, which means all nation states, big hedge funds, all banks, etcetera, believe that the safest place that you can be in is the United States bond market, be it a treasury bill, a T-note, a long bond, anything in between. If you own the full faith and credit of the United States debt, you are buying something extremely safe. And the truth is, it's the exact opposite. It is probably the once place that at some point in time, everybody is going to want to get out of it, perhaps at the same time or close to it.
How can I say that? Well, going back to what I stated, all fiat currencies eventually fail, so this is proven time and time again, yet the belief system has yet to shift in a dramatic way. However, the cryptocurrencies are a bit of a tip off that somebody understands what is going on, and I admit, the best place that you could have possibly been over the last 30 years, for a long term buy, hold and forget it trade, would have been the U.S. bond market, this is true. But nothing grows to the moon. I mean, all trees grow as high as they grow and then they stop. It's the same thing with the bond market.
So, there is a huge debt bomb that we talked about in The Silver Manifesto, that's waiting to go off and when that happens, and it doesn't necessarily mean one day, boom it goes, and everybody understands it. It's more likely to take place slowly, slowly, slowly and then all of a sudden. Which means that a lot of savvy people will be exiting the dollar, which we have seen for years now. We've seen a lot of nation states that have basically abandoned the dollar slowly, sometimes fairly quickly: China, Russia settling their payments between each other in their own currencies. A lot to move from the AIIB (Asian Infrastructure Investment Bank). I mean there is a lot of periphery situations that savvy people are aware of that have been a way for, not only individuals through the cryptocurrency situation, but nation states to exit exposure or much exposure, or to mitigate their exposure to the U.S. dollar. And this is a harbinger for what will take place at some time in the future. So, these things always end, the longer you add, to coin (a phrase) and give credit to Jim Sinclair, "pretend and extend," you pretend that everything is okay and these guys pretend they can manipulate it forever and extend the problem, the worse it becomes, and this is the state that we're in right now.
Mike Gleason: A follow up there on cryptocurrencies, David we've seen a real boom in those lately. Now, I think we would probably both see value in owning some Bitcoin or one of the alternatives, but one thing that we should say is that digital currencies are not and should not be viewed as a substitute for owning gold and silver, which have stood the test of time as money and have been money all throughout history, comment on that if you would.
David Morgan: Well, there's two theories on money. One is that money is whatever the government says it is, which is a legal fiction, and of course you could be the argument that it's salt, or it's cow hides or it's sheep or it's whatever. Well, certainly that's been tried throughout history, but the argument is either it is a legal fiction or it's specie: it's something of value that has value in and of itself and I would argue silver actually has more value than gold, because you can use silver for medicinal purposes, you can use it for electronics, you can use it as money or barter, and it fulfills actually more services to whoever owns it than gold does. But regardless of my thoughts on the two metals, gold and silver from time in memorial all of recorded history have been chosen by the free market as money of substance. And this is where you can't get around the argument, I mean, a lot of people have been brainwashed into believing that gold and silver have no purpose today, they really aren't money, and on and on it goes. So, the idea that you can create something out of nothing and it has value has been tested time and time again, and again they always fail.
On the cryptocurrencies, I'm not against them first of all, in fact I just gave a lecture about them. I talked about gold, silver and the blockchain, of course I mentioned Bitcoin primarily because it's the leader, bitcoin is unusual, I mean let me again back up slightly Mike.
First of all, to be intellectually honest, would a cured fiat system work in theory, and the answer is probably yes, to be intellectually honest. If and only if you had a limited supply of dollars and they only grew as the economy grew, you would have in theory, a pretty good paper system.
However, that has never been the case, even when the gold-standard-basher's bash gold, they've said well, the gold standard has never worked. Well, yes and no. The gold standard would work because what gold's purpose is, is to keep that money supply growing basically at 2% a year, which is probably what a lot of the people on the left side would like, which is sustainable growth. And in a real, true economic system that is backed by physical reality rather than a make believe set of derivatives that is unimaginable at this time, you have an economic system where each dollar over time becomes more and more valuable. But that is not where we're at. So, we're in a situation where there is a challenge to the system, and the main challenge really isn't coming from the precious metals, the main challenge is coming from the cryptocurrencies.
Bitcoin is obviously the leader, I look at it Mike, right now with 750 different cryptocurrencies out there, being similar to what happened in the tech wreck, where a lot of these domain names were getting huge valuations for a very short time and a lot of people were piling in. And yet today we still have Yahoo.com, Amazon is a big leader, there are certainly companies out there that were the real deal, stood the test of time, and a lot of these dogs and cats went away very rapidly. I think the same thing will take place in the cryptocurrencies. I do think that some of them are here to stay, I think Ethereum is really not a coin, I think it's a platform. I think few people really understand it's potential. I think it's one I'm favorable to. Bitcoin, it's hard to argue against, I mean, the markets certainly voting very strong for that one. Dash is an interesting one, I certainly don't know them all, I don't claim to be an expert.
But one place I really do have some concerns is security. And I gave that main concern at this lecture I did in Vancouver recently, and of course I got some blow back on it and people were telling me, you can take your account and write it down on a piece of paper and hide it under your desk and that type of thing, I get that, I understand that. But there's already been security issues with Bitcoin and a lot of people won't do that. I mean, just because you have the potential to make it more secure doesn't necessarily mean that most people will. So there is some vulnerabilities out there and this is not me speaking, these are someones at a recent tech conference, and these were high level people that were talking about the internet of things and how vulnerable all this internet of things model is with this, what's called big data, that is taking place before us right now, has security issues. And they do, so that's something to bear in mind.
Now, as far as, how much to put into Bitcoin or whatever, certainly I'm free market, you decide for yourself, but I think Bitcoin's got a long ways to go and I say that based on technical work. I mean, I looked at the chart before I did my presentation because I work pretty hard on these presentations as you know, and the volume was tremendously large in Bitcoin over the last couple months, which means it's got a lot higher to go, there's no question about it. And momentum feeds on momentum, especially when you're making new highs, there is nothing more bullish to the market than a new high because everyone that owns it wants to hold it, because they don't know how high is high, so there is very little that sells back. There will be some profit taking, but not much, because everyone is concerned with, "wow, I made this much percentage today, I wonder how much I'll make tomorrow." So, there's not much selling pressure. And it will continue to go up. Very interesting market, from a couple places, the main one I would emphasize, which is a probably a different view point from many, is it is a competing currency to the present system and obviously it's taking off rapidly.
Mike Gleason: You've always focused primarily on the silver market throughout your career and I know part of why you're such a big believer in the white metal over the long run – and feel that it could really outperform gold and all other hard assets for that matter – is that fact that the moves can be so explosive because it's such a small market, something like 1/10th the size of the gold market I believe. So, talk about that dynamic and then remind folks about the need to recognize that the moves can be pretty substantial in the silver market and not just to the down side but also to the up side.
David Morgan: Well, exactly. What I just outlined earlier was China's buying more gold this year, and the last, and the smart money can move into gold, I mean, gold is a small market relative to the total financial markets. But they can protect themselves with gold. It's impossible for really big money to move into the silver market, it's just too small a market. And what will happen, is once gold breaks free, whatever that means, actually we're at the cusp of breaking through a 6-year down trend, and it's not going to be the next day, David. It's going to be in a time frame, probably 2018 when we're going to really see some momentum in both of these markets.
But if you look at the total asset base of the world, physical gold makes up about 1%, but silver makes up .02%, and there is a lot of people that at some point will want to turn some of their Bitcoin profits into hard metal. I'm not saying everyone, I'm saying some percentage, but there will be a move into the metals, and once the move into the metals starts in earnest, like we saw in 2011, you will see a lot of money, "money", moving into the precious metals because it will be apparent at some point in time, that what I started this interview with, that the dollars demise is upon us and no one is going to trust it. It's a confidence issue, it's a trust issue. And what's trusted more than anything else, even more than Bitcoin, at least history shows, is the precious metals.
So, there will be people that will be exchanging some of their Bitcoin profits for metal, there will be people on other currencies doing the same, there will be people that have huge bond holdings that will want to get out and move into the metal. And once gold starts moving to a level that a lot of people question if they can afford it or not, that will spill over into the silver market. But the silver market is so tiny, that it will take it much higher, because people really won't care too much about the price, they'll care about protection at that point. And that means, that "while I can afford silver it's only, we'll think of a number, $50, and gold is at $5000, its a 100 to 1 ratio, I can buy silver, I can afford it so I'm going to buy it."
We will see, this is what happened in the 1980's model, and this is what basically some Arabs and the Hunts taking a large position in silver early, before it made its big move. It was actually retail buying that took it to the height, it wasn't Hunt, he was already positioned. It will be similar, I think, this time, except it's a global based market, and we have the internet. Which means, that people that have never bought a silver or gold coin in their lives can almost instantly google how to buy silver, look it up and see how to do it and do it within a matter of a few minutes on the internet, so this is going to put huge pressure on the markets that they've never experienced in the past.
Mike Gleason: As an aside, we have been seeing a big uptake in the Bitcoin orders that we have been taking on our website MoneyMetals.com, we have accepted bitcoin for a good two years now and it's really starting to actually move the needle, believe it or not.
Well, David as we begin to close here, the metals markets of course are a major focus for you, but we've also come to value your insights when it comes to broader issues such as, honest money and personal freedom.
Now, the Liberty Movement got an enormous boost in 2008, the financial crisis and Ron Paul's rise to prominence were among the major catalysts. A whole lot of people were confronted with the problems in our governments and our monetary system. However, nearly 10 years have gone by since the financial crisis and precious little has been fixed, but people have gotten tired or complacent like we talked about at the top of the interview. Take an issue like Audit the Fed for instance, college kids chanted that slogan at rallies a few years back, but the establishment fended off the effort and the momentum appears to have faded there. Now, a good argument can be made about that effort being a waste of energy because beating Congress and Wall Street in their own rigged game is never going to happen, but what are your thoughts on the state of the Liberty Movement today. What efforts do you see working and where are the challenges?
David Morgan: Oh, well that's a real tough one. First off, I'll start from the bottom up. Number one is take care of your personal self and your family, I mean, you want to be healthy, wealthy, and wise to coin Ben Franklin. So, really change what you can, make sure that you're eating right, make sure that you're exercising, make sure that your health is number one. When I sign off the Morgan Report, from day one, I always sign it off "wishing you health above wealth." There is a reason for that. Wisdom beyond knowledge. Having the knowledge of something doesn't mean much unless you implement it. Being wise is meaning you know how the world works and working with it and that's working with the truth. So that's the bottom line, I think control what you can.
Moving up from there, what can you do. Well I'm more or less a pacifist, so I think for example, what Ted Butler did over all these years, to give a shout out to Ted, I mean he was instrumental and spearheaded this whole idea of what was going on in the CFTC and it's been pretty thankless for him for a long time, yet he has maintained his position and asked people to help him write to the CFTC and investigate the manipulation of the silver market, and for years nothing really happened. But this little guy that is being held up as someone spoofing the market and then building a case against him, is probably due to some of the efforts that Ted did, in fact most recently.
So, you can make your voice heard, you certainly don't want to give up. Congress does respond to the populous, it really, really does. So a phone call is much better than an email, and a written correspondence carries a lot more weight than an email and it doesn't have to be a lengthy manifesto, it can just be simply, "I support freedom and you aren't," or something even better from my politically, perhaps questionable point of view, but it's spot-on legally, is "you took an oath to defend the constitution from all enemies, foreign and domestic and I'm starting to question whether or not you are upholding that oath, write me back." Something along those lines will wake them up, whether or not you'll get a response I doubt it, there's probably a computer form letter that has anything with the word Constitution in it that will probably pop out a form letter and send it back to you.
But regardless of that, you certainly can make it. And I'm for peaceful protest, the problem we have now is this "anarchy" with what's going on from a certain political belief system, where burning things up and bashing windows, that doesn't solve anything and it's deconstructive, not constructive. Yet, there seems to be an element that actually relishes making that kind of a statement, which is very sad indeed, and it falls back on us as a society on what's really being taught to the population at large and what are the moral values and what does make us great. What makes us great is we have high integrity, we were telling the truth. That's what made America great, it wasn't the financial system. If the financial system was honest, that helps a great deal. But as I've said many times, but probably bear repeating one more time Mike, as I close out, is there is a direct correlation between the integrity of the money system and the moral integrity of the population at large. The more the monetary system deteriorates, the more the moral society deteriorates with the population. They go hand in hand and we are witnessing that as we speak.
Mike Gleason: Very well put, we'll leave it there. Well, as we wrap up here David, talk about some of the things you're working on there at the Morgan Report, maybe mention the recent book and let people know how they can get their hands on that if they haven't already, and anything else you want to leave our listeners with today.
David Morgan: Yeah, just go to the main website, TheMorganReport.com. I just wrote weeks ago, the silver forecast for 2017. If you're already on the email list, you can go ahead and download that for free. The system is smart enough to know if we already have your email. And then if you're interested in the book, just pull down the books tab on the website, you can order either book, The Silver Manifesto or Second Chance. And Mike I appreciate you mentioning that for me.
Mike Gleason: Well, outstanding insights as usual David, it's wonderful stuff to hear and we're very grateful for your time and for giving us your thoughts on these important matters. We appreciate talking to you today and we wish you an enjoyable summer and look forward to catching up with you before long. Take care my friend.
David Morgan: Thank you very much.
Mike Gleason: Well, that will do it for this week. Thanks again to David Morgan, publisher of The Morgan Report. To follow David just visit TheMorganReport.com. We urge everyone at the very least to go ahead and sign up for the free e-mail list and start getting some of his commentary on a regular basis. And if you haven't already, check out The Silver Manifesto and/or his new book, co-written with our mutual friend David Smith, titled Second Chance: How to Make and Keep Big Money During the Coming Gold and Silver Shock Wave. Both of which are available on the MoneyMetals.com and other places where books are sold. Be sure to check those out.
And don't forget to check back here next Friday for our next Weekly Market Wrap Podcast. Until then, this have been Mike Gleason with Money Metals Exchange, thanks for listening and have a great weekend everybody.