Want More Precious Metals News? Subscribe to Our Podcast!
Time to Prepare for the End of the Trump Rally, High Inflation
Marc Faber: Countries Unwise to Let Antagonistic U.S. Hold Their Gold
---
Don't want to listen? Read the podcast below!
Welcome to this week's Market Wrap Podcast, I'm Mike Gleason.
Coming up we'll hear from the one and only Marc Faber of The Gloom, Boom and Doom Report. Dr Faber has some alarming things to say about how America's foreign policies may have disastrous implications for the U.S. and global economies, and for the dollar. He also weighs in on which asset class, crypto-currencies or precious metals, will ultimately will be the major benefactor of all of the pending geopolitical unrest. Don't miss a tremendous interview with Dr Doom, Marc Faber, coming up after this week's market update.
Precious metals markets suffered a big setback this week as the U.S. dollar gained strength. The dollar rose to a three-month high on interest rates and upbeat economic data, including strong durable goods numbers. The dollar's rise against the euro was also boosted by the European Central Bank's decision Thursday to maintain its ultra-loose monetary policy.
Precious metals traders responded by hitting the sell button. Gold prices are down 1.0% on the week to bring spot prices to $1,323 an ounce as of this Friday recording. Silver currently checks in at $16.52 after falling 3.6%. Platinum is down 1.5% this week to $917, and palladium is off 4.2% to come in at $988 per ounce.
Metals markets could continue to face selling pressure if the U.S. dollar continues to rally. Dollar bulls note interest rates continue to look relatively attractive in the United States, with the European Central Bank showing no signs of trying to catch up with the Fed in raising its benchmark rate. Some currency analysts describe the dollar as the best looking house in a bad neighborhood.
Dollar bears counter that the Federal Reserve's nominal interest rate hikes are lagging behind rising inflationary pressures. Moreover, rising deficit spending makes the U.S. fiscal house one of the worst looking in any neighborhood. The current debt to GDP ratio of close to 100% puts the United States in a danger zone.
Other countries that have seen their government's debt balance exceed the output of their economy went on to experience political upheavals, defaults, and hyperinflations. The most notable example currently playing out is Venezuela.
The bolivar has lost more than 99% of its value since the socialist economy collapsed, sending prices up thousands of percent. The Venezuelan stock market is up some 1,600% so far this year alone. Of course, that doesn't mean you can expect to get rich quick buying Venezuelan stocks. They are moving largely just as a side effect of inflation.
That's easy to see in an extreme case like Venezuela. It's less obvious when inflation is rising at a relatively low annual rate, as it has been in the United States in recent years. But over time the stock market has gotten and continues to get artificially inflated while politicians and mainstream media outlets cheer on what they want us all to believe is a true bull market.
But those who believe the Dow would be sitting at over 24,000 without the inflationary stimulus of the Fed is simply fooling themselves. A rising stock market can actually be a symptom of a systemic problem leading to a currency crisis. Investors don't see it that way right now, which is why they aren't running to gold in a big way. But it won't take much for the powers that be to lose control and for investor perceptions to shift.
It's a question of when, not if. When will the unsustainable growth in government debt reach a tipping point that sends a shock into the financial system?
The most recent omnibus budget deal virtually guarantees trillion dollar deficits going forward. President Donald Trump reluctantly signed it into law and in so doing may have sealed the dollar's long-term fate. The Trump administration is trying to pare the spending back by a few billion dollars… certainly not enough to change the country's fiscal trajectory… but even that likely won't happen. GOP leaders Paul Ryan and Mitch McConnel promised Congressional Democrats they'd get all the spending they want. And that promise apparently supersedes the promise Republicans made to voters about getting spending under control.
It's difficult to believe they will have a better opportunity to do so after this fall's elections, when Democrats are likely to pick up seats – and quite possibly the majority in Congress. Investors would be wise to prepare for the end of the Trump rally and the ultimate inflationary consequences of bipartisan debt spending.
Well now, for a closer look at America's politics internationally and what it all might mean for gold and silver, let's get right to this week's exclusive interview.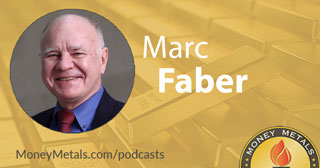 Mike Gleason: It is my privilege now to be joined by a man who needs little introduction, Marc Faber, editor of The Gloom, Boom and Doom Report. Dr. Faber has been a long-time guest on financial shows throughout the world, and is a well-known Austrian economist and investment advisor, and it's a tremendous honor to have him on with us today.
Dr. Faber, thanks so much for joining us again, and how are you?
Marc Faber: Well, it's my pleasure to be on your show. Thank you.
Mike Gleason: Let's start out here with the equities Marc. Now the U.S. stock markets peaked in late January and made their lows for the year in early February. Stocks have been trading in a range since, but are currently pushing back towards those lows as volatility has certainly picked up. If you had to guess about which way the markets are likely to break from here, what would it be, and do you think we've seen the top for 2018 or can speculators keep pushing the markets higher for a bit longer?
Marc Faber: That's a good question and I think everybody's interested in the answers and everybody has a different view, but I have maintained that the January 26th high for the S&P up 2,872 was like a mirror image of the low on March 6th, 2009 when the S&P was at 666. At that time, everybody was bearish and leading strategy and I don't want to name who, but they were predicting for the S&P to fall to 400. And what happened is that, because sentiment was so negative, and the market was so oversold, the market turned around and actually on very poor earnings, started to go up. And now, we have, in January, a high, when everybody felt that the market would go higher and what then happened is that on good earnings, stocks didn't move up, but started to go down.
So, I think we are in a situation where it is likely, it's not yet a hundred percent sure, in order to get a clearer picture, if a major bear market has started, we would have to make a low below the February low, but that hasn't happened yet. But looking at the market and the market action and the momentum and the number of stock that are actually making new lows, I'd say there is a fair probability that the market will disappoint point very badly.
Mike Gleason: Dr. Faber, it seems to us that the fate of precious metals markets is tied pretty closely to stock prices, at least in the near term. We lack either fear or greed to drive any trend change. Here in the U.S. there's very little demand for safe-haven assets. If you look at sentiment in the metals markets you'll find that the greed factor is also missing. Now that could all change if gold and silver can catch investors' attention by significantly outperforming stocks for a while longer or if we get the long overdue correction stocks.
Now Marc, you wrote recently about two items you feel would signal a major top in the equity markets. The first had to do with the public going all-in, coupled with an excessive amount of speculation. The second would be the revelation of a major fraud. Those items will be familiar to anyone who had taken a good look at the 2008 financial crisis. Are you expecting history to repeat itself here?
Marc Faber: Well, I think there is a lot of disinformation, and usually when stocks go down, some fraud comes to the surface. And I expect it to happen, and I mean in a major way. Whether the fraud is related to some corporation, which I think is quite likely, or whether it's related to the fraud that is going on in the pension fund system, where pension funds are grossly underfunded, and, in the future, will either have to increase contributions or reduce distributions. I think these are items that could happen. Secondly, the public may start to lose faith in the system because of the political situation. I think the political situation in the U.S. is very bad, and If you read about what has been happening at the FBI, the CIA in Washington, you have to scratch your head whether that is all possible in a system that is supposedly functioning.
It's like Watergate, but actually magnified. So, I think there is a possibility that investing public loses interest in financial assets. You talked about precious metals. I think there has been, just recently, a huge short position in the dollar. In other words, speculators, 15 months ago, they were heavily long in the dollar, and now they are very heavily short dollar. I think the dollar may rebound and as a result, precious metals may not move up right away. I think, eventually, they'll move up, but for the next, say, one or two months, I don't see how precious metals would rally significantly.
Mike Gleason: Getting back to politics here for just a moment, it does appear that we may be on the verge of a global trade war. What are your thoughts on the tariffs being imposed by the Trump administration on China, and how do you envision that playing out?
Marc Faber: My view is that, actually, the Trump administration, for which, I would have voted for Mr. Trump, but he proves every day that he's a completely clueless individual. He says one thing and then does something totally different. He changes his view all the time. And I think, quite frankly, there is a trade war which maybe won't happen, but if there is one, the U.S. will be the big loser, because consumer prices in the U.S. will go up and that is not desirable at the present time, as the Fed is already tightening and interest rates have been rising, so what it will mean is, if there is a trade war, initially the dollar will actually rally. But this is precisely what the U.S. shouldn't have, a very strong dollar.
Mike Gleason: Turkey is the latest nation to announce that they will repatriate their gold, joining a number of other countries who have declared they will do the same. What does this say about the confidence in the system, and then what do you think these countries are positioning themselves for? Basically, why are they doing this?
Marc Faber: Well, I think the question should be: why did they actually hold gold in the U.S.? I personally think that, to hold your assets that are like a safe-haven, in another country is a risk by itself… so I understand all these countries. And secondly, I think for the first time in Bretton Woods, we have less confidence or less faith in the U.S. dollar as a reserve currency. I think the U.S. policymakers, especially the Neo-cons, had the talent to antagonize Mr. Putin and also Mr. Xi in China.
By doing that, they have actually managed to get them closer into an economic and political alliance. And the goal of these two countries, Russian and China, is probably to gradually move away from a dollar system. I'll tell you, I personally, I'm not a U.S. citizen, I'm just an international observer of economic, financial, and political trends. I cannot imagine a foreign policy that would be worse for the U.S. itself than what the Neo-cons have engineered. I just can't imagine.
Mike Gleason: Yeah, that's a very fair point, there. Speaking of oil and the petrol dollar, oil prices have been moving up steadily for a while now. Do you envision a broader commodity rally taking place here, and then maybe could that benefit precious metals in the long run?
Marc Faber: Well, a lot of industrial commodities have been rallying because of commodities-related circumstances, like aluminum rallies because of the trade embargo against Russia, and so forth. But if I look at industrial commodities, I rather have the feeling that they will come down. Why? I think the increase in interest rates in the U.S. on the 10-year treasury note from 1.38 percent in the summer of 2016 to the current level of over three percent, in other words, we more than doubled in the yield in the bond market. And for the two-year treasury, we have been going up between 10 and 20 times depending how you measure it.
I think these interest rate increases will slow down the U.S. economy, and probably bring about a recession.
Mike Gleason: We talk a lot about the appetite for gold in other parts of the world. Do you ever see the tide changing when it comes to the importance of gold ownership? We know Asians are buying it relentlessly and so are many folks in Europe. On the whole that mindset definitely hasn't made it here to the U.S. yet, but do you sense that may be coming, and if and when it does, do you foresee any problems with being able to get the physical metal once the masses do finally decide to pour into it as the ultimate safe-haven?
Marc Faber: That's a good question. We had a total neglect of gold and other commodities in 1999, and then gold rose from $255 to a peak in September 2011 of $1,921. At that time, there was a lot of speculation in gold and in other precious metals and other commodities. And since then we've been at a bear market until December, 2016, when gold approached $1,000.
Since then, as you know, we've been up something like 30 percent, and it is true, there is some speculative interest in gold, but nothing compared to crypto-currency. People that look for an alternative to paper assets like bonds and equities, they're all gambling on cryptos. I don't think that cryptos are safe. Now they may move up and they may move down but I, as an investor for the ultimate crisis, I prefer to be in physical precious metals, gold, silver, platinum.
I think, eventually, these precious metals will come back into the investment portfolios of major institutions and individuals. The major institutions of the world, they hold practically no gold. They have more money in Apple, they have more money in Amazon, than, say, in gold. And I think that will change over time, but I don't know whether it will be tomorrow or in three years' time, but my view would be that if you really look at the financial situation, the unfunded liabilities, the government deficit, the inflated asset prices, the conclusion is central banks will have to continue to print money, otherwise the system collapses. That, in my opinion, will boost precious metals prices.
Mike Gleason: As we begin to close, here, Dr. Faber, one of the things we value most about your perspective is that you don't live in the U.S. More than most people, you're tuned into what's happening elsewhere, particularly in Asia and Europe. As for Americans, they can't seem to get their eyes off the political theater in Washington, and to be fair, there's never been a show quite like the one we have today, but is there anything of note that Americans are overlooking, and what stories are you going to be watching most closely as we move throughout the year?
Marc Faber: Well, I don't want to criticize the U.S., because in other countries it is not much better. But the one thing I want to say is the following: Americans have been growing up and they've been brainwashed that America is a superpower and they have been educated in the belief of the American exceptionalism. And I just want to say that lots of countries in this world have a different perspective of the world. In particular, if you look at China, it has four times the population of America. Its industrial production is larger than in the U.S., their land mass is larger than the U.S., and they're growing at a much faster pace. They have, in my opinion, no territorial ambitions, but they don't want to be controlled by the U.S. that has, in Asia, countless military and naval bases.
They (China) look at the world from their perspective, and the U.S. would do well to consider other leaders' perspectives, including Xi Jinping and Mr. Kim Jong-un, and Mr. Putin, of course. But if you only look at the world from your perspective, undoubtedly some trouble will arise. And what most Americans don't see, they have kind of a tunnel vision where the tunnel starts in America and looks at the whole world, whereas other countries, they have another view of the world than the U.S.
And I think it's very important, both economically and politically to consider the point of view of other countries that, by the way, have become very powerful.
Mike Gleason: Yeah, very well put. We'll leave it there, and Dr. Faber, thanks so much for your time and for staying up late with us today in your home in Thailand. It was a joy to speak to you again. Before we let you go, please tell people how they can subscribe to The Gloom, Boom and Doom Report so they can follow your great commentaries on a regular basis.
Marc Faber: Thank you very much. I have a website called www.GloomBoomDoom.com. There, they can choose either a printed version of The Gloom, Boom and Doom Report or the website report, or both.
Mike Gleason: Excellent stuff. Once again, it's been a real privilege to speak to you, Dr. Faber, and I hope we can do it again in not too distant future. Thank so much for joining us.
Marc Faber: It was a pleasure talking to you and to your listeners. Thank you.
Mike Gleason: Well, that will do it for this week. Thanks again to Dr. Marc Faber, editor and publisher of The Gloom, Boom and Doom Report, again the website is GloomBoomDoom.com be sure to check that out.
And don't forget to check back here next Friday for our next Weekly Market Wrap Podcast, until then this has been Mike Gleason with Money Metals Exchange, thanks for listening and have a great weekend everybody.