US Mint Monster Box - Empty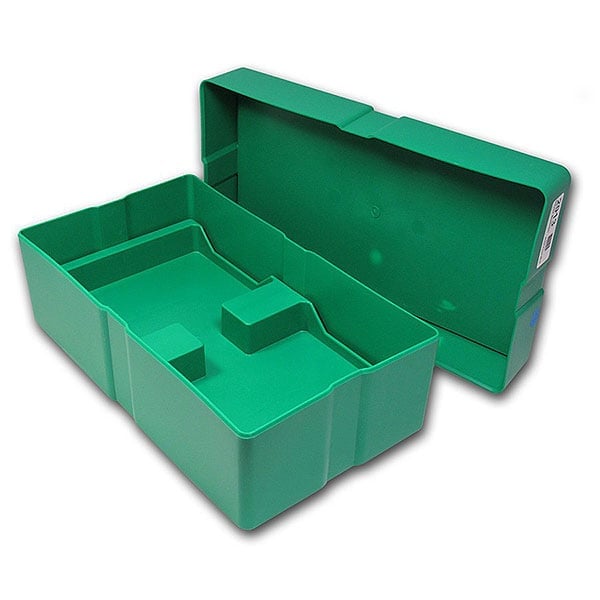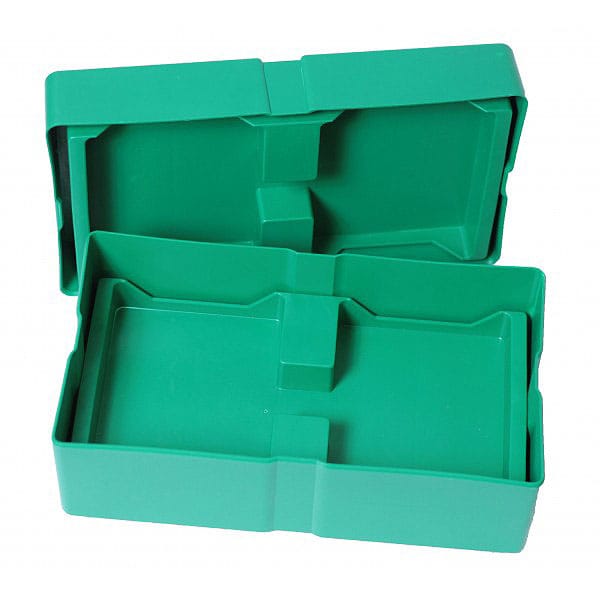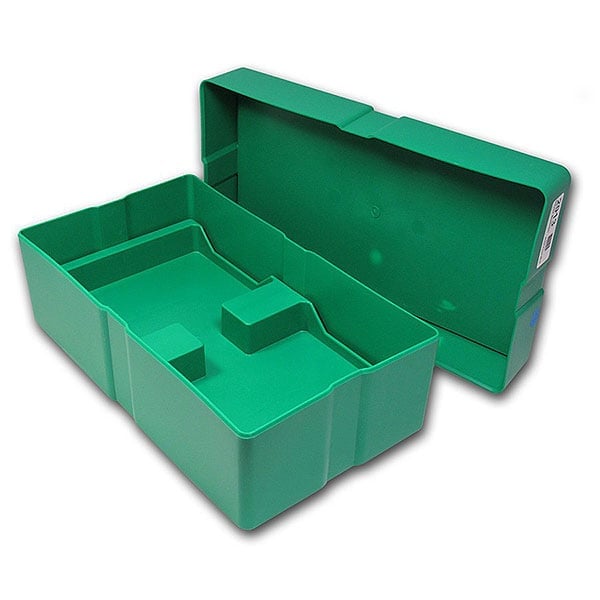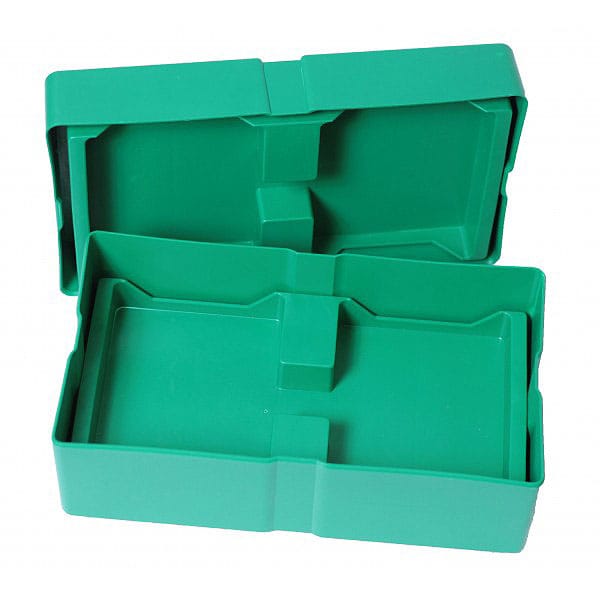 This item is not eligible for free shipping -
and also cannot be shipped to Alaska or Hawaii
Quantity
Price Each
Total Price Each
1 - 7
$19.95
$19.95
8+
Call for discount



Free Shipping
On All $199+ Orders
What Makes the Monster Box a Desirable Coin Container?
The Monster Box has become synonymous with the US Mint and the precious coins that come with it. But this famous treasure chest doesn't necessarily have to contain American Eagle coins. It can be an excellent storage unit for other coins and bullion in your collection.
If you are reading this, chances are you have accumulated an enviable amount of treasure. This is why you need just the right container to store all your precious metal assets. The Monster Box is a container you can't go wrong with.
There are a few things that make the US Mint Monster Box stand out from other containers.
What is the Monster Box?
The Monster Box is a green plastic box that is used for storing and transporting US Mint coins. The box itself is roughly the size of a shoe box, measuring 15 x 8.5 x 4.5 inches. When empty, the Monster Box weighs a bit more than 3 pounds.
The capacity of the box is 500 coins. The coins can be neatly packed into stacks or rolls and protected by a plastic tube. The box can accommodate up to 25 stacks of 20 coins each. However, if you don't have that many coins you can use the space to store other types of bullion as well.
The lid of the box has a slightly raised seal for a tight fit over the coin container. There is a US Mint logo on top of the lid. The box is sealed with tape right out of the mint. If you are getting a box full of coins from an authorized dealer, it should also contain other official information that the US Mint issues.
Why Should You Use a Monster Box?
The Monster Box has its fair share of benefits that makes it highly sought-after even when it is sold empty. Take a look at some of the primary benefits of the US Mint Monster Box:
The Monster Box is built to last. The heavy-duty plastic is thick and hard so there is no chance for the coins or other valuables to be damaged during transport or in storage.
This container keeps your valuable bullion or coins in one place. What's more, the convenient size makes it easy to store this container in a safe deposit box or any other secure environment.
It is one of the most affordable dedicated storage options for bullion and coins.
Besides empty Monster Boxes, you can also get a sealed or an unsealed one. When the box is sold unsealed, it often means that some of the contents have been substituted or removed. These boxes are less expensive compared to sealed ones because they might contain other coins that weren't minted in a single batch.
If a box is sealed, on the other hand, it means you will get the box with 500 coins inside. For die-hard collectors and investors, a sealed box is the best way to get your hands on this great container. The Monster Box is a homogenous unit that complements the 500 certified coins inside.
Where Do Monster Boxes Come from?
You may think that every mint in the world issues Monster Boxes but this is far from the truth. There are only four mints that provide Monster Boxes for large coin orders.
The US and Canadian Mints use Monster Boxes in North America. For the rest of the world, only the Austrian Mint and the Perth Mint ship their silver coin orders in Monster Boxes. Other mints produce silver coins, but only these four ship large orders of them in standardized Monster Boxes.
At the end of the day, you cannot get a Monster Box directly from the mint. You need to go through an authorized dealer for one because these boxes are not sold to the general public. This is, of course, true for sealed boxes. Unsealed and empty boxes can be easily found online and with some retailers.
What is Inside the Monster Box?
The famous green Monster Box houses the American Silver Eagle coins. This coin is by far the most popular and widely traded silver coin in the world. The $1 face value Silver Eagle contains one troy ounce of .999 pure silver.
Three US mints produce Silver Eagle coins and ship them in the green Monster Boxes: West Point, Philadelphia, and San Francisco. They ship sealed Monster Boxes with 500 Silver Eagles together with all the accompanying documentation.
Other Types of Monster Boxes
Apart from the green US Mint Monster Box, there are five more that come from Austria, Australia, Texas, and Canada.
Canadian Silver Maple Leaf Monster Box
The Canadian Silver Maple Leaf is probably the second most popular silver coin that people invest in. The Canadian Monster Boxes hold 500 hundred coins, but the box is yellow and features a slightly different coin layout.
Perth Mint Silver Kangaroo Mini-Monster Box
As its name suggests, this Monster Box is smaller than the others. It can hold 250 Silver Kangaroo coins that are divided into ten 25-coin stacks. The compact size makes this box perfect for most safe deposit boxes.
Texas-Australia Sister Cities Monster Box
The box and coins are an homage to the unique sisterhood between Houston and Perth. Both the box and the coins are highly collectible because only 500,000 coins were minted. The box is dark grey and it can hold 500 coins.
Austrian Silver Philharmonic Monster Box
This is the only Monster Box that comes from Europe. It holds 500 Silver Philharmonic coins divided into 25 tubes of 20 coins each.
To Wrap Up
The Monster Box is a great way to safely store or transport your valuable coins. On top of that, a sealed Monster Box is a great investment for those who want to add to their precious metal collection. These containers are designed to protect your valuables in the best possible way.
So, if you don't have one, make sure to get your hands on one and give your coins the container they deserve.

Product Specifications
| | |
| --- | --- |
| Dimensions: | 15" X 8.5" X 4.5" |
| Weight: | 3 Lb 4 Oz |
We are currently unable to purchase this item online. Please call us at 1-800-800-1865 during normal business hours. A Specialist will assist you if we are currently able to purchase the item.
Shipping Info
We take great pride in the way your order is packaged and delivered.
You can expect:
Prompt Shipping – We ship orders shortly after your payment has been cleared – generally within 2 business days.
Fully Insured – We fully insure all shipments with Lloyd's of London.
Privacy – Your package will have no external markings that provide any clue as to the contents. Because we insure packages with Lloyd's of London, we do not declare a value or insure with the carrier.
Accountability for Package Contents – Your order will be packed under video surveillance, weighed and double-checked prior to shipping to ensure you receive exactly what you ordered.
Professional Packaging – Your order will be packaged securely and professionally.
Tracking – We will provide you with the carrier's tracking number for your shipment so you can monitor its progress and plan for delivery.
Signature Confirmation – Delivery carriers are instructed to request a signature upon delivery.
Cost to Ship & Insure
(absent periodic special offers for free or discounted shipping)
| Insured Value | Cost |
| --- | --- |
| Up to $198.99 | $7.97 |
| Insured Value | Cost |
| --- | --- |
| $199.00 + | FREE |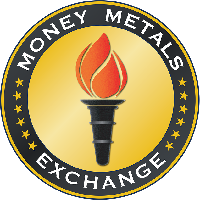 Sign in to Your Account
Please Sign In or Register to leave a review
John R.

February 10th, 2023

Very pleased with the M box, no surprises, this was the highlight of my last order. It's of the size that it will fit in my gun locker. Great for organizing coins and precious metals. Plus this is sold at a reasonable price. Would recommend,

Alan K.

November 2nd, 2022

Perfect Storage for Stacking

Came home to my "Monster Box" today. Sturdy construction, nice design, easy to carry. Can't wait to see what it feels like full.

Andrew B.

June 25th, 2021

Great customer service from Money Metals Exchange for recommending for me to get one of these monster boxes to store my Coins. Well worth the money.

Denise A.

April 20th, 2021

Very durable. Great place to organize and store your coins.

James B.

January 21st, 2021

Rugged and durable it will keep my bullion I one place.