Money Metals customers know the importance of protecting their wealth from the ravages of inflation. Building a precious metals holding is one vital step. Securing that holding is another.
Storing your precious metals in the new, ultra-secure Money Metals Depository is inexpensive and affordable. We offer first-class service – including convenience, security, and savings on the cost to ship and insure your metals – at an economy price.
Money Metals recommends customers store at least some of their holding in a location under their direct personal control. There is no substitute for having immediate, anytime access to your precious metals. But for many, storage at home can be impractical:
Home storage can be stressful for some investors.
Many customers want to hold physical metals in an IRA, which requires third party storage.
Large quantities of silver are heavy to handle.
Very large holdings always demand extra attention to security.
Depository Storage of Your Metals Offers Some Very Real Advantages
State-of-the-art physical security

A brand new depository building custom-built to Money Metals specifications, armored in thick steel and hardened concrete.
Money Metals Depository uses only top-of-the-line UL Class 3 vaults
Our facility uses 24-hour monitoring and the latest security protocols.
Located in low-crime Eagle, Idaho, with the county sheriff's office located on the second floor.

Completely insured and isolated

Money Metals Depository contents are fully insured by Lloyd's of London.
All metals stored in your account are fully segregated and are never commingled with any other customer's holding, or our own.
We are totally removed from any bank, Wall Street, and Washington, DC.

Zero cost to ship and insure

You'll never pay a dime to ship and insure when you order from Money Metals Exchange and elect to store your metal with Money Metals Depository.
There is also never any cost to ship and insure when you sell precious metals stored with Money Metals Depository to Money Metals Exchange.
Third-party storage makes sense when it comes to precious metals IRAs. IRS rules require the assets in retirement accounts be held by a third party, but that does not mean investors are stuck with paper. You can buy physical gold bullion and silver bullion inside your IRA and utilize segregated storage at Money Metals Depository.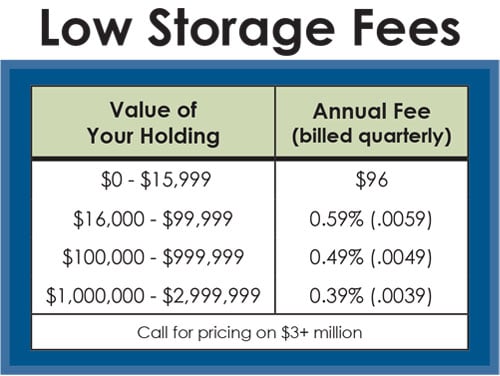 Setting Up a Secure, Low-Cost Storage Account Could Not Be Easier
You may be surprised to find that our white-glove secure storage services come at costs comparable to those charged by a precious metals ETF such as SLV or GLD – but without their counterparty risks and other dangers.
It takes just a couple of minutes to set up your account. Then simply make a purchase and choose delivery to your depository account. Or ship metal you already own to be stored securely by us. That's it. We'll safeguard and fully insure your valuable holding in our state-of-the-art maximum security vault.
There Is a Right Way and a Wrong Way to Do Storage, and We Do It the RIGHT WAY
Money Metals Depository has stored customer metals for several years within secure facilities across the U.S. Our new a state-of-the-art facility in Idaho will follow the same sterling protocols we've already established to assure the highest level of protection for our customers' assets. (Or if you prefer, we continue to offer storage in other facilities around the country.)
Some depositories play games with customers' assets – pooled accounts, unallocated storage, and "re-hypothecation" of customer holdings (which has been called "the Next Major Investment Disaster"). Money Metals has never done these things, and never will; we do storage the right way – fully segregated, fully insured, never commingled, and never used as collateral. Your metal is held in true bailment and remains your sole property at all times. For more information and disclosures, please visit this page.
Be Sure, Have a Look for Yourself
We guarantee customer holdings are properly secured in our vault. In fact, customers can arrange a look for themselves – right from home. On request, we will schedule a viewing of your holding by video. Your sealed holding will be placed on a table, unpacked and displayed, and then resealed – ready to return to storage (limit once per year; modest viewing fees apply).
If you need storage for any portion of your metals stockpile, take advantage of the most secure and convenient option available anywhere. Just call us at 1-800-800-1865 or visit MoneyMetals.com/depository to get started.