Mercury Dimes - 90% Silver (Produced 1916 - 1945)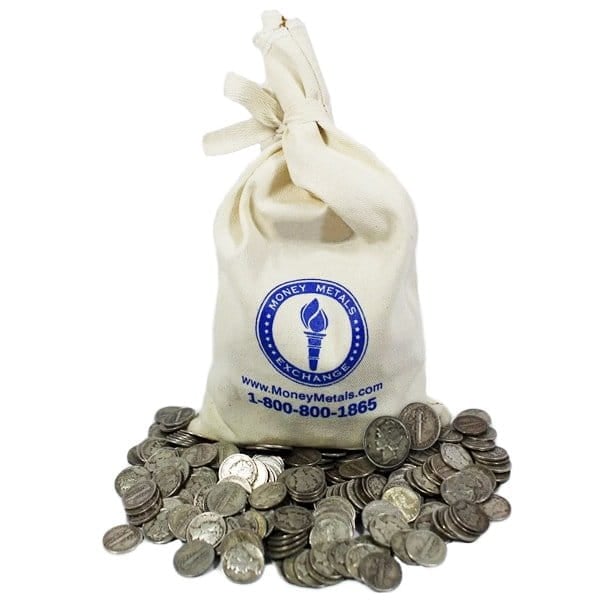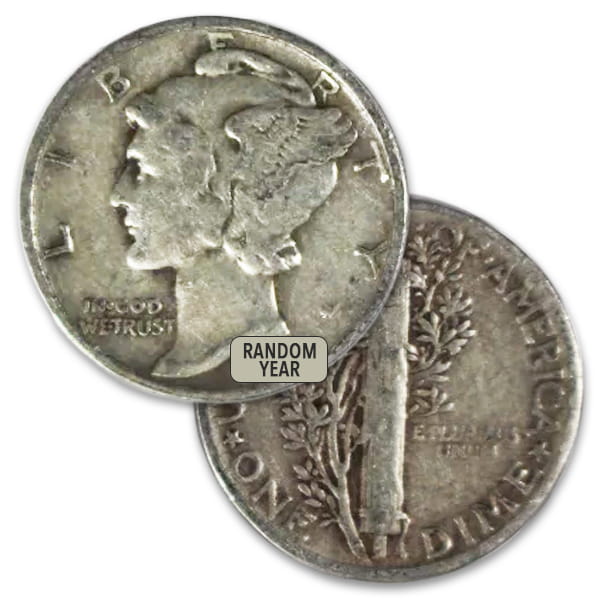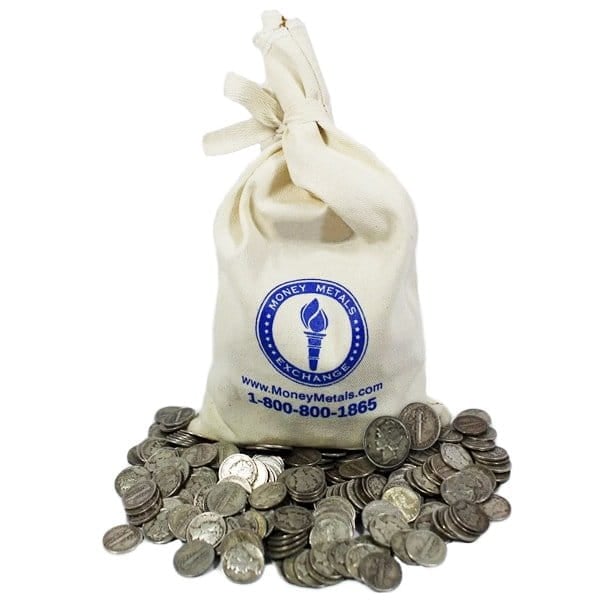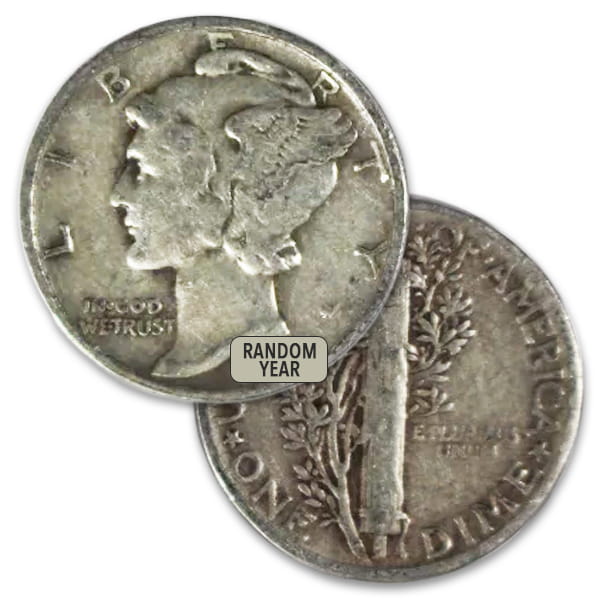 Get a Free Kennedy 90% Silver Coin w/ Your $500+ Silver Order (excludes Vault Silver & Monthly)
Quantity
Premium/Oz
Total Price Each
$ 5 Face
$7.49
$115.00
$ 500 Face
$6.99
$11,320.00
$ 2000 Face
$6.69
$44,860.00
$ 5000 Face +
Please call for our best pricing - 1-800-800-1865
(0.7150 oz of silver content for every face value dollar)



Free Shipping
On All $199+ Orders
Sell to Us Price: $17.11 per $1 face value
Buy Iconic Mercury Dimes For Less From Money Metals Exchange
German-born American sculptor, Adolph A. Weinman, designed two of the United States Mint's most popular and beautiful coins. One was the Walking Liberty half dollar, and the other was the Winged Liberty Head which is also known as the "Mercury" dime. The Mercury dime replaced the Barber dime production in 1916. The U.S. Mint produced Mercury dimes from 1916 to 1945 in 90% silver.
Today, these Mercury dimes, which are ten-cent face value coins (USD $0.10), are popular with silver investors, dealers, and coin collectors alike. The history of the mercury dime silver coins alone makes it unique amongst other coins and bullion coins.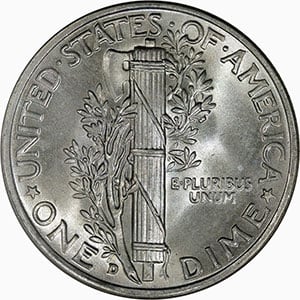 It will be a surprise to most people outside of the coin-collecting community that the familiar profile wearing a winged helm on the coin's obverse does not represent the Roman god Mercury. That mistaken assumption is so common the coin design will forever be associated with the god of messengers.
The intended image on the obverse features a young Lady Liberty wearing the Phrygian (winged) cap as a message of Liberty or freedom. The obverse, also known as the heads side, has written "Liberty," and "In God We Trust."
The reverse side, also known as the tails side, of the silver Mercury dime features a fasces with an olive branch, and it bears the words "United States of America," "One Dime," and "E. Pluribus Unum."
Each uncirculated Mercury Silver Dime contains 0.07234 troy ounces of actual silver which translates to 0.7234 troy ounces for each dollar of face value (10 dimes). Junk silver dimes and quarters, which are heavily circulated cull silver coins, are calculated for their worth in silver as follows:
(0.715 troy ounces x Face Value x Spot + Premium) = Junk Silver Price
Mercury dimes are 90% silver and 10% copper, but buyers only pay for the tarnished silver content as opposed to an investment in an antique collectible or some rare numismatic value. The calculation used to determine the silver weight in any quantity of these 90% silver coins excludes the copper part.
These junk silver dimes for sale, cost a bit more than regular 90%, or "junk," silver dimes and quarters. This means there is usually a higher premium for Mercury dimes instead of silver Roosevelt dimes or other pre-1965 silver coinage. But for fans of these coins, the modest additional premium may be well worth it when it comes to the overall coin values. Coin dealers and collectors like to look for key dates, mint marks, and series that increase the Mercury Silver Dime value.
Silver US coinage, including Mercury dimes, is a great way for bullion investors to buy silver without paying huge market premiums. This valuable coin has the additional advantage of being trusted with a recognizable design. They are marked as official, public, legal tender from the United States Mint and spent decades in circulation with plenty of wear and tear.
This worn trait also makes the coins ideal for anyone who is building a barter stash. The truth is that the unbacked, debased, U.S. dollar will not survive if the federal government destroys the confidence backing our currency by continuing to borrow and spend without restraint. It is wise to prepare for the day when confidence collapses and merchants no longer accept U.S. dollars for payment. The small denomination and the recognizability increase the silver Mercury dimes' worth and make them easy to trade for items as small as a loaf of bread.
Product Specifications
| | |
| --- | --- |
| Mint Facility: | US Mint |
| Denomination: | One Dime |
| Date: | 1916 - 1945 |
| Quality / Type: | Circulated |
| Purity: | 90% silver, 10% copper |
| Metal Weight: | .715 troy oz. silver content per dollar of face value |
| Diameter: | 17.9mm |
| Thickness: | 1.35mm |
| Edge: | Reeded |
| Obverse: | Winged Liberty Head |
| Reverse: | Column & Fasces |
Sell to Us
We are buying this item back daily, and we pay you promptly!
Our current buy pricing is $17.11 per $1 face value and we will buy up to 7,150 ounces at this price. Simply call us on any weekday to lock pricing at 1-800-800-1865.
Learn more about the process for selling to us here.
Shipping Info
We take great pride in the way your order is packaged and delivered.
You can expect:
Prompt Shipping – We ship orders shortly after your payment has been cleared – generally within 2 business days.
Fully Insured – We fully insure all shipments with Lloyd's of London.
Privacy – Your package will have no external markings that provide any clue as to the contents. Because we insure packages with Lloyd's of London, we do not declare a value or insure with the carrier.
Accountability for Package Contents – Your order will be packed under video surveillance, weighed and double-checked prior to shipping to ensure you receive exactly what you ordered.
Professional Packaging – Your order will be packaged securely and professionally.
Tracking – We will provide you with the carrier's tracking number for your shipment so you can monitor its progress and plan for delivery.
Signature Confirmation – Delivery carriers are instructed to request a signature upon delivery.
Cost to Ship & Insure
(absent periodic special offers for free or discounted shipping)
| Insured Value | Cost |
| --- | --- |
| Up to $198.99 | $7.97 |
| Insured Value | Cost |
| --- | --- |
| $199.00 + | FREE |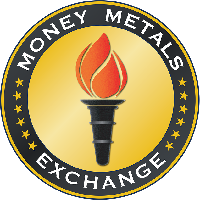 Sign in to Your Account
Please Sign In or Register to leave a review
Donald R.

September 27th, 2023

The dimes I received were in much better shape than I expected and even found a couple that could be graded.. other than receiving a single 1964 Roosevelt dime in my order I'm very happy with the junk silver mme sells

Douglas B.

July 20th, 2023

I received a nice variety of dimes in good condition and in a timely manner. Thank you!

I am very pleased with my purchase of mercury dimes. Thank you!

Adrian M.

April 9th, 2023

Junk Silver Mercury Dimes

I bought these silver dimes as a bartering tool in the SHTF scenario!!! What a great product, easily recognizable, great condition for the age... Great Product from the Money Metals team!!!

Chrispin B.

December 15th, 2022

Beautiful coins, shipped fast. Perfect for making small transactions in a barter economy.